MARIA GABRIELLA BAGNATO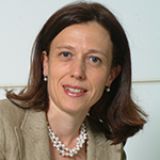 Lecturer
Department of Management and Technology

Courses a.y. 2020/2021
10035

COMPETENZE, SELEZIONE E INSERIMENTO [COMPETENCES, RECRUITMENT AND SELECTION]
10113

LABORATORI [WORKSHOPS]
10771

LEADERSHIP
11059

PERSONAL DEVELOPMENT COURSE & SOFT SKILLS
11493

LEADING SELF, LEADING OTHERS
11735

HUMAN CAPITAL WEEK
11973

LEADERSHIP LAB
20159
SEMINARI PER LO SVILUPPO DI ABILITA' COMPORTAMENTALI / BEHAVIOURAL SKILLS SEMINARS
20508
GOVERNMENT AND INTERNATIONAL ORGANIZATIONS: TRENDS AND CAREERS
20725
GLOBAL LEADERSHIP
30008
FONDAMENTI DI ORGANIZZAZIONE / FUNDAMENTALS OF ORGANIZATION
Biographical note
Academic CV
Lecturer at the Department of Management and Technology of Bocconi University and Professor of SDA Bocconi Business School, area Organizzazione&Personale.

Her teaching activity focuses on leadership and management skills, team management, effective interpersonal behavior (assertiveness, conflict management, compelling public speaking) and recruitment and selection. She designs and teaches self-empowerment workshops. She is a certified Executive Coach and Affiliate of the Columbia University Coaching Certification Program.
Since 2015 she is the Director of the Bocconi University Master in Organization and HRM (Master Organizzazione&Personale).
Research areas
Organizational behavior (communication, assertiveness, team-building and teamwork, negotiation, leadership and management styles with special attention to coaching). Human resources management (selection, recruitment and development of capabilities).
Publications
SELECTED PUBLICATIONS
Books
Bagnato MG, Il fattore umano della Responsible Leadership, in Magni, Pennarola, Responsible Leadership, EGEA 2015
Bagnato MG, Interna ed esterna: la selezione ai tempi della crisi, in Raffaglio, Manzoni (a cura di) HR Management. Fare crescere le persone per fare crescere il business. EGEA ottobre 2014
Bagnato MG,( a cura di), Fare selezione. Esperienza e metodo nella scelta delle persone, EGEA marzo 2014
in Corporate performance managemen a cura di Anna Pistoni, Hoepli, 2009,
G.Bagnato,Il sistema di valutazione della prestazione come leva di sviluppo pp.178-188, 2010
G.Bagnato, C.Paolino HRM practices, work engagement and
firm performance, Divisione Ricerche SDA Bocconi e pubblicazione su Ticon Zero, 2009
B.Bauer, G.Bagnato, MR Ventura, Puoi anche dire no. L'assertività al femminile, Baldini & Castoldi 2002
G.Bagnato, B.Demichelis, Stage: sceglierlo, affrontarlo e valorizzarlo. ACTL (in colaborazione con Corriere Lavoro e Jobpilot), 2000
B.Bauer, G.Bagnato Studiare all'Università. Imparare a gestire il tempo, lo stress e le relazioni interpersonali, Egea, 1994
Articles
G.Bagnato, C.Paolino, HRM practices, work engagement and performance, working paper, 2009
T.Reina, G.Soda, G.Bagnato, Talenti o brocchi? La selezione del personale e le performance individuali. Economia & Management n.2 mar/apr 2004
G.Bagnato, B.Provera e P.Boromei, La gestione strategica del Recruitment_il caso L'Oreal, in corso di review per Economia & Management 2003
G.Bagnato Il processo di selezione Economia & Management 2002
G.Bagnato, F. Paoletti, La selezione integrata. La selezione come leva strategica: le prospettive di integrazione con il ciclo di gestione del personale, Sviluppo & Organizzazione n.168 luglio/agosto 1998