MYRIAM MARIANI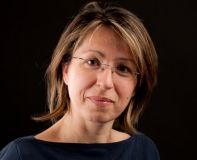 Full Professor
Department of Management and Technology

Courses a.y. 2021/2022
11899

INNOVATION IN SERVICES
20133
INDUSTRY ANALYSIS (Economia dei settori industriali e dell'innovazione) / INDUSTRY ANALYSIS (Industrial economics and economics of innovation)
20292
INNOVATION IN SERVICES
20451
FUNDAMENTALS OF INNOVATION AND INDUSTRIAL CHANGE
30012
STRATEGIA COMPETITIVA / BUSINESS STRATEGY
41016

INNOVATION
Biographical note
Degree in Economics and Management, Università di Urbino. PhD degree, Università Politecnica delle Marche.
Academic CV
Full professor of Applied Economics. Director of the Master of Science Program EMIT (Economics and Management of Innovation and Technology) and ICRIOS research fellow (Bocconi University). Post-doc fellow at MERIT, University of Maastricht (2000-2002), visiting Scholar at SIEPR (Stanford Institute for Economic Policy Research) at Stanford University (2003 and 2005), and Carnegie Mellon University, Pittsburgh (2003). Visiting professor at Boston University a.y. 2015-2016.
Research areas
(1) The mechanisms through which knowledge spillovers among individuals and firms take place during the inventive process, and how they contribute to enhance the innovation performance.
(2) Job motivations, inventors' behavior and income differences
(3) Women in STEM: why are there few women in STEM related disciplines and jobs? What are the processes through which women select in and out from science-based professions? Are there differences in terms of wages and productivity between genders in STEM and inventive jobs?
Publications
SELECTED PUBLICATIONS
A list of publications is available on my personal page
Selected publications:
"Lost Marie Curies: Parental Impact on the Probability of Becoming an Inventor" Management Science (2022) published online on May, 20, 2022
"Trained to Lead: Evidence from Industrial Research" (with Luisa Gagliardi), Strategic Management Journal (2021)
"Firm Strategic Behavior and the Measurement of Knowledge Flows with Patent Citations" (with M. Corsino and S. Torrisi), Strategic Management Journal (2019) 40: 1040-1069
"Rewards for patents and inventor behaviors in industrial R&D" (with M. Giarratana and I. Weller), Academy of Management Journal (2018) 61: 264-292
"It's a Man's Job. Income and the Gender Gap in Industrial Research" (with K. Hoisl), Management Science (2017) 63(3): 766-790
"Used, blocking and sleeping patents: Empirical evidence from a large-scale inventor survey" (with S. Torrisi, A. Gambardella, P. Giuri, K. Hoisl, D. Harhoff), Research Policy (2016) 45(7): 1374-1385
"Learning to Be Edison: Inventors, Organizations, and Breakthrough Inventions" (with R. Conti and A. Gambardella), Organization Science (2014) 25(3): 833-849
"The relationship between knowledge sourcing and fear of imitation" (with M. Giarratana), Strategic Management Journal, (2014) 35(8): 1144-1163
"When distance does not matter: Inventors, education, and the locus of knowledge spillovers" (with P. Giuri), The Review of Economics and Statistics, (2013) 95(2): 449-463