GIOVANNI STRAMPELLI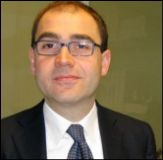 Full Professor
Department of Law

Courses a.y. 2021/2022
20138
DIRITTO COMMERCIALE (corso progredito) / COMPANY AND BUSINESS LAW (advanced course)
30013
DIRITTO COMMERCIALE / COMPANY AND BUSINESS LAW
30058
COMPARATIVE BUSINESS AND EUROPEAN LAW
40440

TEMI DI DIRITTO DELLE IMPRESE [TOPICS IN BUSINESS LAW]
40441

PHD SEMINARS IN DIRITTO DELLE IMPRESE [PHD SEMINARS IN BUSINESS LAW]
Biographical note
Born December 7th, 1977. He holds a degree in Economics from Università Bocconi.. He received a PhD from the Università Cattolica di Milano. Visiting fellow Max Plank Institut, Munich (2003, 2007, 2011).
Academic CV
Associate professor of business law.
He is a member of the editorial board of the following journals: Rivista delle società; Strumenti finanziari e fiscalità
Research areas
Business law, company law, corporate governance, accounting law, financial market law, Insolvency law
Publications
SELECTED PUBLICATIONS
He has published two monographic volumes:Sistemi di controllo e indipendendenza nelle società per azioni, Egea, 2013, Distribuzioni ai soci e tutela dei creditori. L'effetto degli IAS/IFRS, Giappichelli, 2009.
Articles and book chapters written by him include: knocking at the boardroom door: a transatlantic overview of director-institutional investor engagement in law and practice, pp. 1-39, in virginia law & business review, forthcoming 2018. (currently available at papers.ssrn.com/sol3/papers.cfm?abstract_id=3044278); the eu issuers' accounting disclosure regime and investors' information needs. the essential role of narrative reporting, pp. 1-41, in european business organization law review (ebor), forthcoming 2018. (currently available at https://papers.ssrn.com/sol3/papers.cfm?abstract_id=3003743); i flussi informativi nelle società quotate: poteri e doveri del collegio sindacale, in rivista di diritto privato, 2017, pp. 79-101; le valutazioni di bilancio tra non veridicità (civile) e falsità (penale): spunti sulla punibilità dei falsi valutativi, in rivista delle società, 2016, pp. 118-151. l'enforcement "pubblico" dell'informazione contabile tra strumenti di carattere preventivo e sanzioni reputazionali, in rivista delle società, 2015, pp. 573‐616; l'informazione societaria a quindici anni dal t.u.f.: profili evolutivi e problemi, in rivista delle società, 2014, pp. 991‐1059; la revisione legale dei conti, in michele vietti (a cura di), la governance nelle società di capitali, egea, 2013, pp. 553-617; capitale sociale e struttura finanziaria nella società in crisi, in riv. soc., 2012, pp. 605-662; rendering (once more) financial assistance regime more flexibile, 2012, in european company and financial law review, 2012, pp. 530-570; la rilevazione dei ricavi secondo gli ias/ifrs: profili giuridici, "il principio substance over form: profili contabili, civilistici e tributari", quaderni di giurisprudenza commerciale, a cura di f. gallo e g. scognamiglio, giuffrè, 2012, pp. 85-125; il bilancio d'esercizio conforme ai principi ias/ifrs, in trattato di diritto privato diretto da p. rescigno, vol. 16/ii, 2. ed., utet, 2011, pp. 605-656; i regimi alternativi di valutazione dei conferimenti in natura in società per azioni: appunti, in riv. dir. civ., 2011, ii, pp. 211-240; the ias/ifrs after the crisis: limiting the impact of fair value on companies' capital, in european company and financial law review, 2011, pp. 1-29; il dirigente preposto alla redazione dei documenti contabili nella governance societaria, in amministrazione e controllo nelle società e negli altri enti commerciali. scritti in onore del prof. piras, giappichelli, 2010, pp. 535-554; le riserve da fair value: profili di disciplina e riflessi sulla configurazione e la natura del patrimonio netto, in rivista delle società, n. 2/3, 2006, 243-337.
(l'elenco completo delle pubblicazioni è disponibile nella pagina personale del docente).