DEBORAH CAROLINA RACCAGNI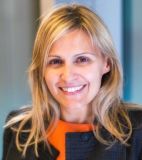 Lecturer
Department of Marketing

Courses a.y. 2022/2023
10788

E-COMMERCE & E-TAILING
11727

MARKET STRATEGY & PLANNING
11902

EVENT AND MEGA EVENT MANAGEMENT AND CREATIVE INDUSTRIES
20475
EVENT AND MEGA EVENT MANAGEMENT AND CREATIVE INDUSTRIES
20755
ECOMMERCE
20839
STRATEGIC MARKETING AND ANALYTICS (WEB ANALYTICS) - MODULE 2
30499
DIGITAL MARKETING LAB
Biographical note
Degree in Business Administration, Università Bocconi (2002). PhD in Business Administration and Management, Università Bocconi (2008).
Academic CV
Lecturer in Marketing at Bocconi University Marketing Department. Deputy Director to the Master of Science in Marketing Management and affiliate at CERMES, Centre for Research on Marketing & Services of Bocconi University. She is Affiliate Professor of Marketing at Marketing Area SDA Bocconi, School of Management.
She served as Adjunct Professor in Marketing at Franklin College University in Lugano (CH) (2011-2013) ; Research Fellow at Università degli Studi Roma Tre (2010) and Research Fellow at Bocconi University (2007-2010)
Research areas
Customer Knowledge Management: Collaborative Approach Implementation and Value Creation.
Internet Marketing; Innovation and Technology management
Publications
SELECTED PUBLICATIONS
Busacca B., Chizzoli C., Raccagni D., (2014) Customer Value Analysis. Problems and Applications, Egea.
Vicari S., Cillo P., Raccagni D. (2013) Product Inovation. Egea.
Vicari S., Cillo P., Raccagni D. (2012) New Product Development and Market Creation. Egea Tools.
"Web-based Product Innovation: Past Research, Current Findings, and Managerial Implications" (co-authors E. Prandelli and G.Verona). California Management Review. Vol 48(4):109-135. Summer issue.
"Il ruolo del Web ai fini del coinvolgimento del cliente nei processi di innovazione: una rilevazione empirica" (co-authors E. Prandelli and G.Verona). Micro&Macro Marketing.