MELISSA MIEDICO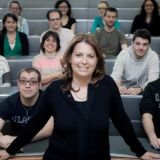 Associate Professor
Department of Law

Courses a.y. 2022/2023
50126
DIRITTO PENALE - MODULO II (PARTE SPECIALE DEL CODICE PENALE) [CRIMINAL LAW - MODULE II (CRIMINAL CODE SPECIAL PART)]
50154
DIRITTO PENALE (PARTE SPECIALE DEL CODICE PENALE) [CRIMINAL LAW (CRIMINAL CODE SPECIAL PART)]
50221
DIRITTO PENALE [CRIMINAL LAW]
Biographical note
Degree in Law from Milan State University.
Ph.D. in Italian criminal law and comparative criminal law from Pavia State University.
She passed the bar exam.
Study periods at the Max Planck Institut in Freiburg, at the London School of Economics and at Oxford University.
Academic CV
Professor in Criminal Law at the Bocconi University School of Economics in Milan.
She teaches Criminal Law at the Legal Sciences degree – undergraduate, postgraduate law.
From 2013 to 2019, she was Director of Integrated Master of Arts in Law (5 years program).
She manages the Legal Clinics of Bocconi University.
Research areas
Criminal law, corporate crimes, business crimes, protection of vulnerable victims of crimes, criminal sanctions.
Publications
SELECTED PUBLICATIONS
Il fenomeno migratorio: una risorsa da valorizzare, in Federalismi.it, 2019;
Le linee guida della Procura Generale presso la Corte d'Appello di Reggio Calabria sul recupero crediti per le pene pecuniarie, in Diritto Penale Contemporaneo, 2018;
Nuovi limiti per l'accesso all'affidamento in prova, fra scelte legislative e ragionevolezza costituzionale, in Rivista Italiana di Diritto e Procedura Penale, 2018;
Le sanzioni penali: funziona qualcosa? Spunti di riflessione, in C. E. Paliero, F. Viganò, F. Basile, G. L. Gatta (a cura di), La pena, ancora: fra attualità e tradizione. Studi in onore di Emilio Dolcini, Giuffrè, 2018;
Gli abusi di mercato, in A. Alessandri (a cura di), Trattato teorico-pratico di diritto penale. Reati in materia economica, II ed., Giappichelli, 2017.