VINCENZO BAGLIERI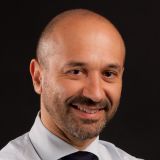 SDA Professor of Practice
Department of Management and Technology

Courses a.y. 2021/2022
10526

INNOVATION MANAGEMENT
11985

MAKING INNOVATION HAPPEN: SCENARIOS, PEOPLE, PRACTICES 2
12039

DIGITAL WEEK
30014
GESTIONE DELLA TECNOLOGIA, DELL'INNOVAZIONE E DELLE OPERATIONS [TECHNOLOGY AND OPERATIONS]
Biographical note
Born July 18th, 1968. Degree in Business Administration with major in management of manufacturing companies, from Università Bocconi. PhD in Economics and Management of Technology, Università di Pavia
Academic CV
Professor of Practice the SDA Bocconi School of Management. He teaches Corporate Economics and Management at the Bocconi University. He was Visiting Professor at the University of California San Diego (UCSD) Rady School of Management, CA, USA, and at the University of San Diego, School of Business Administration. He collaborates with the Faculty of Economics and Business Admistration of the University of Sao Paulo (USP/FEA), Brazil. From 2003 to 2012 he was Assistant Professor of Corporate Economics and Management at Università Bocconi and Head of the SDA Bocconi's Operations and Technology Management Unit. Received the ITP diploma from the Stern School of Business of New York University, N.Y. (U.S.A.).
At the SDA Bocconi School of Management he is currenty the Associate Dean of the Master Division.
Research areas
Design and Engineering of the Customer Experience, Industry 4.0,Service Industrialization. Management of technological innovation processes. Management of new product development processes. Project management. Strategic management of relations with suppliers.
Publications
SELECTED PUBLICATIONS
L'integrazione di un network complesso in quattro passi: lezioni dal campo, Palmieri, Antonio; Parola, Francesco; Baglieri, Vincenzo, Economia e Management, 2016/3;Trust in Supply Forecast Information Sharing, Firouzi, Fatemeh; Jaber, Mohamad; Baglieri, Vincenzo, International Journal of Production Research, 25, 2015, 2-11; (2015) Dal Supply Chain Management al Demand Chain Management, in Logistica e Supply Chain Management, edited by Bergamaschi M., Renoldi A., pp. 47-60, Pearson, Milano; Managing Consumer Services, with U. Karmarkar, Springer 2014; Industrializzare i Servizi, con E. Zambolin, Egea 2012;Innovazione e Multinazionali: gli Headquarters contano ancora?, con M. Bruno, E. Vasconcellos e A. Grando, Economia e Management, n.1, 2012; Vincere con le idee, con G. Lojacono, Egea 2009; Dieci regole per innovare, con V. Veronesi, S. Zamboni, L. Merlini, Egea 2009; Strategic goals and design drivers of the supplier portal: lessons from the Ferrari case (con R. Secchi), Production Planning & Control, 2007; Exploring the impact of a supplier portal on the buyer-supplier relationship. The case of Ferrari Auto, (con R.Secchi e S.Croom), Industrial Marketing Management 2007;La gestione strategica degli approvvigionamenti, Milano: ETAS, 2004; Dall'idea al valore, Milano: Etas, 2003; New Economy e impresa industriale: i due stadi della rivoluzione (with R. Secchi), in E. Valdani, A. Ordanini, G. Verona (ed.), L'impresa e-based: 127-155, Milano: EGEA, 2002; Linking Shareholder Value to R&D Performance, in T.M. Khalil, L.A. Lefebvre, R.M. Mason (ed.), Management of Technology: the Key to Prosperity in the Third Millenium, Pergamon, 2001: 117-126; ICT, collaborazione e innovazione: i tre assi della eSupply Chain (with R. Secchi), in C. Demattè (ed.), E-business: condizioni e strumenti per le imprese che cambiano, ETAS, 2001: pp. 141-182; La ricerca, Chapter II and L'industrializzazione, Charter IV, in A. Grando (ed.), Innovazione, produzione e logistica nellera dell'economia digitale, ETAS, 2001: 23-46 and 81-104; La progettazione e lo sviluppo di nuovi prodotti (with E. Prandelli), in S. Vicari (ed.), Il management nell'era della connessione. Dalla catena fisica alla rete virtuale del valore, Milano: EGEA, 2001: 337-390; Tecnologia e Ricerca: quale contributo alla competitività nel nuovo scenario? in Economia & Management (ed.), n. 5, September-October, 2001: 16-31; La misurazione delle performance della R&S, in Finanza Marketing Produzione, n.1, March, 2001: 78-100; Evaluating Intangible Assets: The Measurement of R&D Performance (with Chiesa V., Grando A. and Manzini R.), in Management of Innovation in the Knowledge Economy-European Perspectives, Nijmegen Business School, 5-6 June, Collana di Working Paper, SDA Divisione Ricerche, SDA Bocconi, 2000; Ambienti multiprogetto, in Organizzare e gestire progetti (ed., with others), ETAS Libri, 1999: 203-239; Innovazione e tecnologia (with M. Giuffrida), in G. Forestieri and G. Invernizzi (ed.), Lo sviluppo delle imprese familiari: alla ricerca dei modelli di successo, Mediocredito Lombardo, 1999: 301-318; Politiche di facilitazione allinnovazione nelle piccole e medie imprese (with S. Di Martino), in G. Brunetti, G. Mussati and G. Corbetta (eds.), Piccole e medie imprese e politiche di facilitazione, Milano: EGEA, 1997: 297-314; R&D Performance Measurement: a Reference Model, in Atti del 7° International Forum on Technology Management, Kyoto, 3-7 November, 1997; Exploiting the Value of Post-consumer Plastics: An Analysis of the Main Technological Options (with S. Cavenaghi), in Collana di Working Paper, SDA Divisione Ricerche, SDA Bocconi, 1997.