FRANCO FLAVIO MIROGLIO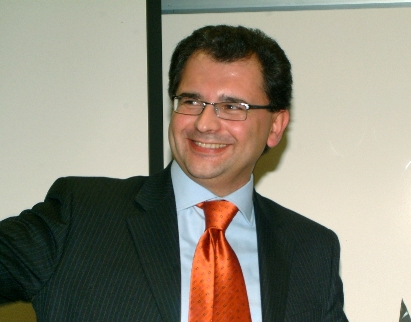 Lecturer
Department of Accounting

Courses a.y. 2021/2022
10027

BILANCIO D'ESERCIZIO [ACCOUNTING]
10724

COST MANAGEMENT AND PROFITABILITY ANALYSIS
11171

PROGETTAZIONE E GESTIONE DEL SISTEMA INFORMATIVO AMMINISTRATIVO [DESIGN AND MANAGEMENT OF THE ADMINISTRATIVE INFORMATION SYSTEM]
20352
PRECORSO DI CONTABILITA' E BILANCIO / FINANCIAL ACCOUNTING - PREPARATORY COURSE
20353
PRECORSO DI PROGRAMMAZIONE E CONTROLLO / MANAGERIAL ACCOUNTING - PREPARATORY COURSE
30007
PROGRAMMAZIONE E CONTROLLO / MANAGERIAL ACCOUNTING
30426
BILANCIO - MODULO 1 / ACCOUNTING AND FINANCIAL STATEMENT ANALYSIS - MODULE 1
30526
FINANCIAL ANALYSIS AND PERFORMANCE MEASUREMENT
Biographical note
Born March 11th, 1967. Degree in Business Administration from Università Bocconi. ITP received from the London Business School (1997).
Academic CV
Accounting Department Lecturer. Senior porfessor Bocconi School of Management, Accounting, Management Control , Finance And Real Estate Department.
Research areas
Management Accounting, Accounting & Information systems, Process management & measurement, Cost measurement&management.
Publications
SELECTED PUBLICATIONS
"Il Benchmarking dei processi amministrativi. General Ledger: metodologie di misurazione e confronto", in Economia & Management , n. 1, 1997;
"Ciclo Passivo ed EDI: semplificazione dei processi amministrativi e tecnologie dell'informazione" (with A. Pistoni), in Economia & Management , n. 6, 1997;
chapter 6 in F. Amigoni and S. Beretta (eds.), Information Technology e creazione di valore. Analisi del fenomeno SAP, Milano: EGEA, 1998,;
Il benchmarking dei processi amministrativi (with S. Beretta, A. Dossi, G. Meloni), Milano: EGEA, 1999;
Analisi e contabilità dei costi. Raccolta di letture e casi (with S. Beretti), Milano: EGEA, 2002;
chapters 3-7-8 in M. Agliati (ed.), I sistemi integrati ERP: strategie di configurazione della componente amministrativa, Milano: EGEA, 1999;
chapters 8-10 in F. Amigoni and S. Beretta (eds.), Financial Shared Services, Milano: EGEA, 2000;
"Activity-Based Costing e miglioramento di processo: potenzialità e limiti", in Economia & Management, n. 6, 2001;
Evoluzioni della funzione amministrativa. Attività, Professionalità e Assetti nell'era dell'integrazione informativa, (with Agliati, Caglio, Meloni), Milano: EGEA, 2001;
Esercizi risolti di programmazione e controllo (with. G.Tomasi), Milano, EGEA, 2004;
Check-up e progettazione del Sistema di Amministrazione e Controllo, Milano, EGEA, 2006;
Misurazione e controllo dei costi del servizio nelle lavanderie industriali operanti nel settore sanitario, in TEME, n. 11/12, 2006.