CLAUDIA IMPERATORE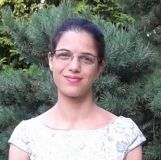 Assistant Professor
Department of Accounting

Biographical note
Born in 1987. Bachelor in Business Administration from Seconda Università di Napoli. M.Sc. in Accounting, Financial Management and Control from Università di Padova. PhD in Management (specialized in Accounting) at IE Business School, Madrid. Visiting PhD student at University of Chicago (IL, 2014-2016).
Academic CV
Assistant Professor and instructor of 'Intermediate Financial Accounting'
Research areas
Earnings management; corporate disclosure; financial market dynamics and family firms.
Publications
SELECTED PUBLICATIONS
Articles:
Gomez-Mejia L. R., Cruz C., and Imperatore C., 2014, "Financial Reporting and the Protection of Socioemotional Wealth in Family-Controlled Firms", European Accounting Review, 23(3), 387-402
Trombetta M., Imperatore C., 2014, "The dynamic of financial crises and its non-monotonic effects on earnings quality", Journal of Accounting and Public Policy, 33(3), 205-232
Bozzolan, S, Imperatore C., and Michelon, G., 2013, "Sistemi di controllo interno e qualità dell'informativa contabile. Evidenze dalle principali società quotate europee", Economia e Management, 1, 83-102
Books and chapters:
Exercises in Favotto, F, Bozzolan, S., Parbonetti, A., 2011, Economia Aziendale. Metodi, Modelli, Casi, McGraw-Hill, Milano
Baroli P., Imperatore C., Locatelli R. and Trombetta M., 2014, Italian banking foundations: The path from banking holding company to an innovative form of "private welfare", FUNCAS, Documentos de Trabajo, n° 741