MASSIMO MORELLI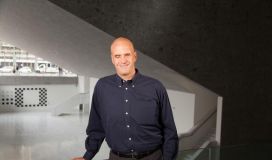 Full Professor
Department of Economics

Courses a.y. 2021/2022
20610
DECISIONS AND ORGANIZATIONS
20672
COMPARATIVE POLITICS: INSTITUTIONS AND INSTITUTIONAL DEVELOPMENT
30334
INTERNATIONAL RELATIONS
Biographical note
Degree in Economics and Social Sciences (summa cum laude) at Bocconi University, 1991; Dottorato in Economia Politica at University of Pavia, 1995; Ph.D. in Economics Harvard University, 1996.
Academic CV
For the updated CV, please follow this link.
Research areas
Game theory, mechanism design, political economy, governance institutions, development economics, behavioral and public economics, comparative politics and international relations.
Publications
SELECTED PUBLICATIONS
His main recent publications are listed below. Further details on his publications are provided in the personal page.
Journal of Political Economy

(forthcoming): "Dispute Resolution Institutions and Strategic Militarization" (with Adam Meirowitz, Kris Ramsay and Francesco

Squintani);

American Journal of Political Science

(2016): "Turnout Across Democracies" (with Helios Herrera and Salvatore Nunnari), Vol. 60(3), 607-24;

Review of Economic Studies

(2015): "Mediation and Peace" (with Johannes Horner and Francesco Squintani), Vol. 82, 1483-501;

Quarterly Journal of Economics

(2015): "The Geography of Inter-State Resource Wars" (with Francesco Caselli and Dominic Rohner) Vol 130-1, pp. 267-315;

Journal of Political Economy

(2015): "Strategic Mass Killings" (with Joan Esteban and Dominic Rohner), Vol. 123-5; International Geneva Award winner 2015;

American Journal of Political Science

(2008): "Incumbents' Interests and Gender Quotas" (with Francois Maniquet and Guillaume R. Fréchette) Vol. 52-4, 891-909;

American Economic Review

(2007): "Political Bias and War" (with Matthew O. Jackson), Vol. 97-4, 1353-73;

American Economic Review

(2006): "Self-Enforcing Voting in International Organizations" (with Giovanni Maggi), Vol. 96-4, 1137-58; also reprinted in Public International Law (November 2010), edited by Eric A. Posner, Elgar Publishing;

Econometrica (2005)

: Behavioral Identication in Coalitional Bargaining: an Experimental Analysis of Demand Bargaining and Alternating Offers" (with Guillaume Fréchette and John Kagel), Vol. 73-6, 1893-939;

Review of Economic Studies

(2004): "Party Formation and Policy Outcomes under Different Electoral Systems," Vol. 71-3, 829-53;

Review of Economic Studies

(2001): "Occupational Choice and Dynamic Incentives" (with Maitreesh Ghatak and Tomas Sjostrom), Vol. 68-4, 781-810;

American Political Science Review

(1999): "Demand Competition and Policy Compromise in Legislative Bargaining," Vol. 93-4, 809-20;

American Political Science Review

(2007): "Demand Commitment and Legislative Bargaining: A Response." Vol. 101(4), 851;