ANTONIO MARRA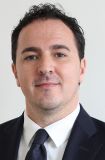 Associate Professor
Department of Accounting

Courses a.y. 2018/2019
10573

FINANCIAL REPORTING AND ANALYSIS
Biographical note
Born in 1975. B.S. in Business Admistration and Law - Università Bocconi; M.Sc. in Corporate Taxation - Università Bocconi; M.Res in Accounting and Financial Management - Lancaster University Management School; Ph.D in Business Administration - Università degli Studi di Pavia.
Certified CPA and Auditor.
Academic CV
Associate Professor. Professor of Analysis and Interpretation of Financial Statements. Visiting Professor at Tippie College of Business, University of IOWA, (IOWA, USA; 2013-14), Zicklin School of Business (New York, 2008-2010) and Baruch College (New York, 2008-2010); Visiting Scholar at LUMS - Lancaster University Management School (2007).
SDA Bocconi - School of Management Professor and Professor of Accounting and Financial Reporting at MISB Bocconi - India. Coordinator of the MSc in Accounting and Law and member of the Executive Committee of the Department of Accounting.
Research areas
Teaching: Financial Accounting, Financial Statement Analysis, Auditing, Consolidated Financial Statements.
Research: Links between Corporate Governance and Firm performance, Earnings Management, Auditing and related Issues. International accounting standards.
Selected publications
Articoli
Strategy, Valuation, and Forecast Accuracy: Evidence from Italian Strategic Plan Disclosures, con S.P. Baginski, S. Bozzolan & P. Mazzola. European Accounting Review. Forthcoming.
Pros and Cons Debate on Fair Value Accounting in a Globalized Economy: A Never Ending Story?. Journal of Accouting Auditin and Finance. Forthcoming.
Comment Letter Frequency and CEO Turnover: a Dynamic Survival Analysis. Journal of Accountig Audiing and Finance. 2015. M. Gietzmann & A.K. Pettinicchio.
Are There Adverse Consequences of Mandatory Auditor Rotation? Evidence from the Italian Experience. Auditing: A Journal of Practice and Theory. 2014. with M. Cameran, J. Francis, & A.K. Pettinicchio.
Is Corporate Board more effective under IFRS? or is "Just an illusion", Journal of Accounting, Auditing and Finance. 2014. with P. Mazzola.
Corporate Boards, Audit Committees and Earnings Management: US recent evidence. Journal of Business, Finance, and Accounting. 2010. with A. Ghosh e D. Moon.
Corporate Governance and Earnings Management pre and post IFRS, The International Journal of Accounting, 2011, withP. Mazzola & A. Prencipe.
Consiglio di Amministrazione e qualità degli utili. Una analisi empirica nel panorama italiano, 2014, Economia & Management.
Libri e Capitoli di Libro
International Financial Reporting Standard. Accounting and Financial Reporting Using IFRS. 2015. withA.K. Pettinicchio & M. Semprini. McGraw Hill.
CONSOLIDATION. Preparing and understanding consolidated financial statements under IFRS, McGraw-Hill International. 2013. withC. Gallimberti & A. Prencipe.
Consigli di Amministrazione e Qualità degli utili in Italia, EGEA. 2013.
Revisione Contabile: Tecniche e Strumenti Operativi. Il Sole24Ore. 2010. with M. Livatino & S. Cova.
La prima adozione dei principi contabili internazionali in Italia, capitolo 17, in "Il Bilancio secondo gli IAS", AA.VV. Giuffrè Editor, 2006.