STEFANO BAIA CURIONI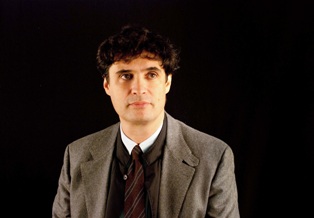 Associate Professor
Department of Policy Analysis and Public Management


Courses a.y. 2016/2017
20361
ARTS AND CULTURE - PREPARATORY COURSE
20447
CULTURAL MEDIATION
20458
ART MANAGEMENT AND MARKETS
30035
STORIA ECONOMICA E DEL PENSIERO ECONOMICO / ECONOMIC HISTORY AND HISTORY OF ECONOMIC THOUGHT
30245
METODO, CRITICA E RICERCA NELLE DISCIPLINE ARTISTICHE / METHOD AND RESEARCH IN ARTS
30246
METODO, CRITICA E RICERCA NELLE DISCIPLINE ARTISTICHE II - MODULO I (ARTI VISIVE) [METHOD AND RESEARCH IN ARTS II - MODULE I (HISTORY OF VISUAL ART)]
30254
METODO, CRITICA E RICERCA NELLE DISCIPLINE ARTISTICHE II - MODULO II (STORIA DELLA MUSICA) [METHOD AND RESEARCH IN ARTS II - MODULE II (HISTORY OF MUSIC)]
30265
METODO, CRITICA E RICERCA NELLE DISCIPLINE ARTISTICHE II - MODULO II (STORIA DELL'ARTE RINASCIMENTALE) [METHOD AND RESEARCH IN ARTS II - MODULE II (HISTORY OF RENAISSANCE ART)]
30274
METODO, CRITICA E RICERCA NELLE DISCIPLINE ARTISTICHE II - MODULO II (INFORMAZIONE E GIORNALISMO) [METHOD AND RESEARCH IN ARTS II - MODULE II (INFORMATION AND JOURNALISM)]
30278
METODO, CRITICA E RICERCA NELLE DISCIPLINE ARTISTICHE II - MODULO I (STORIA DELL'ARTE CONTEMPORANEA) [METHOD AND RESEARCH IN ARTS II - MODULE I (CONTEMPORARY ART HISTORY)]

Biographical note
Born August 31st, 1956. Degree in Economics from Università Bocconi.

Academic CV
Associate Professor of Economic History. DEA and Doctorat de Troisième Cycle, Ecole des Hautes Etudes en Sciences Sociales, Paris Institute of Economic History.
2000-2010 Responsible for Arts e Culture Dept. CLEACC (15 courses on Arts and culture)
2004-2010 Director of the graduate Degree in Economy for Arts and Culture (Cleacc ACME).
2004 2009 Director of ASK Research Center (Management and economics of Heritage and Arts) Bocconi University, 2010 Vice President ASK Research Center
2005-2009 General director of ERGA Foundation (Economy, Research and management for Arts and Heritage) (Bocconi University Milan Scuola Normale Superiore di Pisa)
Board membership: 2007 - 2008 Member of the Commission for Heritage Valorisation Italian Ministry for heritage and cultural activities
2008 Member of the tecnical commitee for cultural heritage Lombardia Region
2008 - 2012 Member of the scientific committee of Palazzo Te Mantova.
2010 Board member fondazione Ratti Como
2011 Board member fondazione Piccolo Teatro
2011 -2014 Member of the scientific commitee of Fondazione Civita Rome
2011 European Research Council: expert for cultural policies

Research areas
History of thought. History of finance. History of labour. History of information technology.
2001 The Broadcast Museum of Milan evaluation project Fondazione Corriere della Sera
2002 Fondo Ambiente Italiano Property rights valorisation project - Fondo Ambiente Italiano
2004 Arg e Bam reconstruction Evaluation Project World Bank
2005 The Roman Ship of Pisa Conservation and Valorisation Project Fondazione Cassa di Risparmio di Pisa
2005 - Demidoff Garden conservation and Valorisation project Province of Florence
2006 The Soprintendenza Autonoma of Rome reorganisation project Soprintendenza Autonoma di Roma
2006 The Arts Museum of Piacenza evaluation project Edison Spa
2006 The Science Center of Pisa evaluation project Fondazione Cassa di Risparmio di Pisa
2007 Venice Arsenale development project - Arsenale Spa
2007 The Milan Art Scene Fondazione Fiera Milano
2007 Hangar Bicocca Arts Center Planning document Pirelli RE
2008-2009 The Milan Contemporary Art Museum feasibility study- Triennale di Milano
2009 Creation of the Milan exhibitions agency Comune di Milano
2010 The heritage and the State: the activities of heritage management of Italian ministry of Culture -MiBac- Italian Ministry of Culture

Selected publications
"A proposito di economia mondo nel XVII secolo", in Cheiron, 1984; "La ricchezza tra gelsi e riso. Per un'identità economica della Lombardia nel XVIII secolo", in VV.AA., L'Europa riconosciuta, Milano, Cariplo, 1988; Per sconfiggere l'oblio. Saggi e documenti per una biografia intellettuale di Pietro Verri, Milano: F. Angeli, 1988; "Tecnologia e impresa in prospettiva storica", in Rivista di Storia Economica, Torino: Einaudi, 1988; "Storia di una grande famiglia. I Verri", in VV.AA., Storia di Milano, Milano: Motta, 1991; "La Borsa e il mercato finanziario (1870-1899), in Memorie e progetto per la Milano italiana, Milano: Fondazione Bagatti Valsecchi, 1991; "Lineamenti dell'evoluzione istituzionale della Borsa di Milano (1898-1941)", in Rivista di Storia Economica, Torino: Einaudi, 1991; "La Borsa Valori di Milano (1918-1974)", in VV.AA., Storia di Milano, Roma: Istituto dell'Enciclopedia Italiana Treccani, 1996; "Regolazione e conflitti nel mercato mobiliare italiano. Il caso del 1907" (with D. Masciandaro), in Annali di storia d'lmpresa, Assi, 1991; Competizione e regolamentazione. Storia del mercato mobiliare in Italia (1808-1936), Bologna: Il Mulino, 1995; "La comunit finanziaria milanese e la ricostruzione del sistema finanziario: ipotesi di ricerca", in Pensare l'Italia nuova: la cultura economica milanese tra corporativismo e ricostruzione, Atti di convegno Milano, 11-12 dicembre 1995, Collana Ciriec, Milano: Franco Angeli, 1997; "Un giorno saremo tutti operai. Il pensiero del lavoro nell'antropologia filosofica", (with M. Amato), in Atti di convegno, Imola, Centro Studi di Storia del Lavoro, 1998; Modernita' e mercato, Milano: EGEA, 2000.
2002 Il mondo nuovo, Electa
2003 La Valutazione dei progetti culturali - EGEA
2005 - Imprenditorialità e patrimonio culturale: contributi dalla teoria della social corporate responsibility, in Beni Culturali nel bilancio sociale di impresa, Pisa
2006 - L'intrapresa culturale: riflessioni sul rapporto tra produzione culturale e logiche di impresa, Economia e Management, n.1.
2007 Back to the future? Note sul lavoro universitario nel tempo dei crediti, in Quale Università per l'Europa? Governance, rapporti con il territorio, costituzione dei profili, atti del XXVI Simposio internazionale di studi italo-tedeschi, Merano, 2007;
2008 La catena del valore nelle istituzioni culturali AEDON, n.2. settembre 2008;
2008 Arte economia e cultura di progetto, in Design Research, a cura di H. Hoeger, Abitare, Milano;
2009 Intervento in Regioni e musei: politiche per i sistemi museali dagli anni Settanta a oggi, Atti del convegno Pisa, Scuola Normale Superiore, a cura di D. La Monica e E. Pellegrini, Pisa , 2009;