ANNE JEANNE MARIE JOSEPH SERVANTIE JACQUEMINET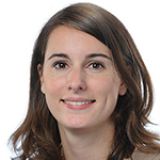 Assistant Professor
Department of Management and Technology

Courses a.y. 2018/2019
Biographical note
Master of Science in International Management from HEC Paris and the Community of European Management Schools (CEMS). Phd in Strategy and Management from HEC Paris.
Academic CV
Professor of Strategy in the Department of Management and Technology at Bocconi University. Her research seeks to explain conformity within multinational enterprises and subsidiaries' implementation of practices and she focuses on relational as well as strategic drivers. She is particularly interested in sustainability issues, corporate social responsibility and ethics.
Research areas
Her research interests include organizational conformity, non-market strategies, headquarters-subsidiaries relationships, subsidiary strategy, attention of decision-makers, diffusion of practices, institutional demands and organizational strategic responses and sustainability.
Selected publications
Peer Conformity, Attention, and Heterogeneous Implementation of Practices in MNEs. Journal of International Business Studies, 46.8(2015):917-937.