THOMAS EICHENTOPF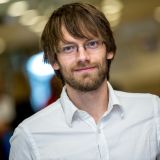 Assistant Professor
Department of Marketing

Biographical note
Graduate degree in business administration from Freie Universität Berlin (FUB), supported with a scholarship of the Konrad-Adenauer-Stiftung. PhD at Rotterdam School of Management.
Academic CV
2009 to 2010: Research associate, Marketing Department at Freie Universität Berlin
2010 to 2015: PhD student at Rotterdam School of Management, Erasmus University Rotterdam
2014: Visiting scholar at McCombs School of Business, University of Texas at Austin
Since 2015: Assistant professor for Marketing Department at Bocconi University
Research areas
Marketing-finance, marketing accountability, B2B marketing, service research
Selected publications
Eichentopf, T., Kleinaltenkamp, M., and Van Stiphout, J. (2011). Modelling customer process activities in interactive value creation, Journal of Service Management, 22 (5): 650 – 663.