JULIEN GUILLAUME JOURDAN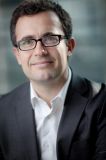 Assistant Professor
Department of Management and Technology


Courses a.y. 2016/2017
30288
SEMINARI PER LO SVILUPPO DELLE COMPETENZE MANAGERIALI E DI LEADERSHIP / LEADERSHIP AND MANAGERIAL SKILLS SEMINAR
30380
THE GLOBAL INDUSTRY OF IMAGINARIES

Biographical note
PhD. in Strategic Management from HEC Paris. MPhil. in Organization Science from Sorbonne University. MSc. in Management from ESCP Europe. Former film industry executive.

Academic CV
Assistant Professor, Management and Technology Department, Bocconi University.
Visiting Fellow, Imperial College London Business School.
Personal website.

Research areas
Strategy. Economic Sociology. Social Network Analysis. Cultural Industries.

Selected publications
Jules or Jim: Alternative Conformity to Minority Logics (With R.Durand). Academy of Management Journal, 2012 (in press).