CLAUDIO TEBALDI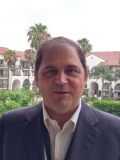 Associate Professor
Department of Finance

Courses a.y. 2021/2022
11618

RISK IN FINANCIAL PORTFOLIOS
11877

ADVANCED DERIVATIVES
20135
TEORIA DELLA FINANZA / THEORY OF FINANCE
20245
ADVANCED DERIVATIVES
Biographical note
PhD in Statistical Mechanics and M.Sc in Complex Systems, Institute for Advanced Studies (Trieste); Master in Economics and Finance (Venice International Univ.); Degree in Physics, Padova University.
Academic CV
Since 2011, he is Associate Professor at Bocconi University in Quantitative Methods for Economics and Finance. Since 2015 he holds the National Qualification to Full Professorship in the s.s.d. Quantitative Methods for Finance and Insurance. Previously he held the position of Researcher in Quantitative Methods for Economics Finance and Insurance, Faculty of Economics Verona University since 2000 (tenured 2003). His teaching activity ranges from Calculus and Basic Finance, at the Undergraduate level, to Derivative pricing and Interest rate theory, at the Graduate and PhD levels. In January 2007 he was awarded the Best Paper in Derivatives for the Northern Finance Association, Vancouver 2019 and the Best Paper in Finance of the Swiss Econometrics and Finance Society meeting. In 2004 he has been an invited visiting scholar at the Faculty of Finance, Anderson School of Management, Univ. of California in Los Angeles, and in 1998 visited the Niels Bohr Institute for Theoretical Physics and Complex Systems in Copenaghen. He serves as referee and managing editor for leading international journals in quantitative finance. He leads research projects and is frequently invited to speak about his research by leading European universities and financial institutions.
Research areas
Quantitative Methods in Economics and Finance: Risk Management, Asset and Derivative Pricing, Term Structure of Interest Rates, Dynamic Asset Allocation, Statistical Models of Nonlinear Interacting Complex Systems, Network Analysis, Systemic Risk.
Publications
SELECTED PUBLICATIONS
See the complete list