MARINA NICOLI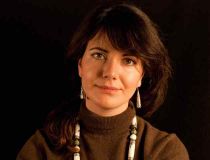 Lecturer
Department of Social and Political Sciences

Courses a.y. 2021/2022
20176
UNDERSTANDING CONSUMER (CONSUMER BEHAVIOUR AND CCT) - MODULE 2
30067
STORIA ECONOMICA / ECONOMIC HISTORY
30077
ESTETICA / PHILOSOPHY OF ART
30474
METODO, CRITICA E RICERCA NELLE DISCIPLINE ARTISTICHE II - MODULO I (ETICA ARTE SCIENZA) [CRITICAL APPROACHES TO THE ARTS II - MODULE I (ETHICS ARTS AND SCIENCE)]
Biographical note
Msc in Economics and Management of Arts, Culture and Communication, Bocconi University (2003). Phd in Economic and Social History, Bocconi University (2009).
Academic CV
2017-2019, Research fellowship, Department of Film and Television Studies, University of Warwick, AHRC (Arts and Humanities Research Council) funded project "Producers and Production Practices in the History of Italian Cinema 1949-1975". Principal Investigator: Stephen Gundle.
2011-2016, Post-doc research fellowship, Department of Policy Analysis and Management, Bocconi University, Milan, Italy.
2011 Spring Term, Visiting Fellow, Dartmouth College, New Hampshire, US.
Research areas
Economic history, Economic policy, Economic history of cinema, Business history
Publications
SELECTED PUBLICATIONS
Papers
Corsi, Barbara, Marina Nicoli and Alfono Venturini (2021). "Fellini the founder? The Fellini brand in film production", Journal of Italian Cinema and Media Studies 9 (1):133-148.
Nicoli, Marina (2020). "Making Caccia Tragica: Giorgio Agliani, Giuseppe De Santis and the Italian Resistance", Historical Journal of Film, Radio and Television, 40:1, 29-54.
Sedgwick, John, Peter Miskell and Marina Nicoli (2018). "The Market for Films in Postwar Italy: Evidence for Both National and Regional Patterns of Taste." Enterprise & Society 20: 199 - 228.
Corsi, Barbara and Marina Nicoli (2017). "Nuove soluzioni e vecchie tare. La mancata rivoluzione del cinema italiano". Link. Industrie e immaginari dell'audiovisivo digitale: 38:50.
Miskell, Peter, and Marina Nicoli (2016). "From Outsiders to Insiders?: Strategies and Practices of American Film Distributors in Postwar Italy." Enterprise & Society 17, no. 3: 546-590.
Nicoli, Marina (2011). "Entrepreneurs and the State in the Italian Film Industry, 1919-1935", Business History Review 85: 775-798.
Nicoli, Marina (2011). "La Società Anonima Stefano Pittaluga tra scelte strategiche e pressioni politiche, 1919-1935", Imprese e Storia, Voll. 41-42.
Book chapters
Giulianelli, Roberto and Marina Nicoli (forthcoming). "Dare credito al cinema. La Sezione autonoma della Banca Nazionale del lavoro (1935-1942)". In La Cines Pittaluga e le altre. Modelli di produzione cinematografica tra le due guerre, edited by Felisini D., Mazzei, L. Torino: Accademia University Press.
Corsi, Barbara and Marina Nicoli (2020). "Fellini and his producers. Strange bedfellows". In A Companion to Federico Fellini, edited by Burke F., Waller, M. and Gubareva, M., New Jersey: Wiley Blackwell.
Sedgwick, John, and Marina Nicoli (2018). "Popular Filmgoing in Mid-1950s Milan: Opening up the 'Black Box.'" In Routledge Companion to New Cinema History, edited by Biltereyst, D., Maltby, R., and Meers, Ph., New York: Routledge.
Cirrincione, Armando and Marina Nicoli (2012). "Il funzionamento della filiera dell'audiovisivo" in Tecnologie fra i saperi, edited by Fornaciarini D. and Minazzi, F., Milano: Mimesis.
Nicoli, Marina (2009). "L'educazione industriale degli imprenditori cinematografici italiani". In Imprenditorialità e sviluppo economico. Il caso Italiano (secc. XIII-XIX) edited by Amatori, F. and Colli, A., Egea, Milano.
Nicoli, Marina (2009). "Du parrain au Parrain: la mafia entre mythe et réalité". In Baptiser, Pratique sacramentelle, pratique sociale (XVI-XX siècles), edited by Alfani, G., Castagnetti, P. and Gourdon, V., Saint Etienne: Publications de l'Université de Saint Etienne.