ALBERTO DELL'ACQUA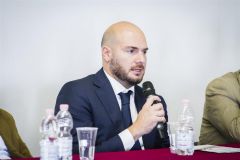 SDA Associate Professor of Practice
Department of Finance

Courses a.y. 2021/2022
10398

CORPORATE VALUATION
10441

PRIVATE EQUITY & VENTURE CAPITAL
11697

CORPORATE FINANCE AND BUSINESS VALUATION
12037

ENTREPRENEURSHIP WEEK
20211
FINANCIAL MANAGEMENT E CORPORATE BANKING / FINANCIAL MANAGEMENT AND CORPORATE BANKING
Biographical note
Born in Milano on Sept 16, 1976.
Academic CV
Associate Professor of Practice, SDA Bocconi School of Management.
Director, Corporate Welfare Lab, SDA Bocconi School of Management.
Director, Master in Corporate Finance, SDA Bocconi School of Management (editions 16-17-18-19-20-21).
Professor, Financial Management & Corporate Banking, Master of Science in Management. Bocconi University, Milano.
Publications and experiences are available in details in my personal page.
Research areas
Finance
Corporate Finance
Private Equity & Venture Capital
Capital Markets
Fintech
Publications
SELECTED PUBLICATIONS
Main articles in international peer-reviewed journals:
"Investor Protection and Value Creation in Cross-Border M&As by emerging economies", (with Etro L.L., Teti E.), Journal of International Financial Management and Accounting, Wiley & Sons, Eds, Vol. 29, Issue 1, 2018. (Impact factor: 1.833)
"The Impact of Board Independency, CEO Duality and CEO Fixed Compensation on M&A Performance", (with Etro L.L., Teti E.), Corporate Governance. International Journal of Business in Society, Emerald Insights Eds., Vol. 7, Issue 5, 2017. (Winner of the "Highly Commended on Emerald Literati Awards 2018").
"Relationship lending, credit market concentration and the cost of debt", (with Bonini S., Fungo M., Kysucky V.), International Review of Financial Analysis, Elsevier Eds, Vol. 45, pp. 172-179, 2016. (Impact factor: 5.373).
"Conference calls and volatility in the Post Reg-FD Era", (with Caselli S., Perrini F.), European Financial Management, Wiley & Sons Eds, 16:2, pp. 256-270, 2010. (Impact factor: 1.800).
Main books:
Startup Finance (with Shehata J.), Egea Milano, 2021
Corporate Debt Management, Bocconi University Press, Milano, 2018.
Debt Management, Egea Milano, 2017.