VERONICA BINDA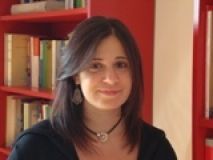 Lecturer
Department of Social and Political Sciences

Courses a.y. 2021/2022
20720
GLOBAL SCENARIOS - MODULE 1 (GEOPOLITICS AND BUSINESS)
30067
STORIA ECONOMICA / ECONOMIC HISTORY
Biographical note
Born June 26th, 1980. Degree in Economic, Statistical and Social Sciences from Università Bocconi (2003). PhD in Economic and Social History from Università Bocconi (2007).
Academic CV
Lecturer of Economic History at the Department of Social and Political Sciences. Since completing her PhD, she gave lectures at the University of Parma (Faculty of Political Science) from 2008 to 2010. From 2010 to 2013 she has been given the responsibility for the Business History course at the Department of Economics and Business at Pompeu Fabra University (Barcelona).
Research areas
Business History, Economic History, History of International Business
Publications
SELECTED PUBLICATIONS
"Trends in the fashion business. Spain and Italy in comparison (1973-2013)", Enterprise and Society, 2019 (with Elisabetta Merlo); "Social perception and corporate image of the largest Italian enterprises (1950-1975)", Archives of Italian Economic and Business History. II, 2018; "Il settore dell'auto tra multinazionali straniere e imprese locali. Italia e Spagna a confronto (1900-1990)", La industria del automóvil de España e Italia en perspectiva histórica, 2018 (with Mario Perugini); "I cartelli come istituzione anticrisi. Il caso italiano "1900-1960", Ricerche di Storia Economica e Sociale, 2017 (with Mario Perugini);"A Short History of International Business in Italy: What We Know and How We Know It", Journal of Evolutionary Studies in Business, 2016; The Dynamics of Big Business: Structure, Strategy, and Impact in Italy and Spain, Routledge, New York, 2013; "Strategy and Structure in Large Italian and Spanish firms, 1950-2002", Business History Review, 2012; "Changing big business in Italy and Spain, 1973-2003: strategic responses to a new context", Business History, 2011 (with Andrea Colli); "Spagna", Privatizzazioni e competitività delle imprese, 2011; "Grandes empresas salen fuera de casa: la experiencia española e italiana en el largo plazo", Información Comercial Española – Revista de Economía, 2009; "La internacionalización de las grandes empresas en dos naciones mediterráneas. Italia y España, 1950-2002", Revista de Historia Industrial - Economía y Empresa, 2009; "Imprenditorialità e grande impresa nella seconda metà del Ventesimo secolo. Italia e Spagna a confronto", Imprenditorialità e sviluppo economico. Il caso italiano (secc. XIII-XX), 2009; "Mapping Corporate Europe: business responses to institutional change, 1957-2007", European Journal of International Management, 2007 (with John F. Wilson, Martin Iversen, Harm Schröter, Andrea Colli and Valerie Antcliff); "Towards a 'Managerial Revolution' in European Business? The transformation of Danish and Spanish Big Business, 1973-2003", Business History, 2007 (with Martin Iversen); "Entre el Estado y las multinacionales: la empresa industrial española en los años de integración a la CEE", Revista de Historia Industrial - Economía y Empresa, 2005; "L'accidentato percorso della grande impresa spagnola tra Stato e multinazionali, 1975-2000", Imprese e Storia, 2005.