REBECCA GRAZIANI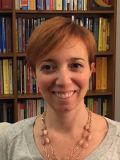 Researcher with Tenure
Department of Social and Political Sciences

Courses a.y. 2021/2022
20149
QUANTITATIVE METHODS FOR MANAGEMENT
20361
ARTS AND CULTURE - PREPARATORY COURSE
20592
STATISTICS AND PROBABILITY
30001
STATISTICA / STATISTICS
30320
QUANTITATIVE METHODS FOR SOCIAL SCIENCES (MODULE II - STATISTICS)
Biographical note
Degree in Economics from Università Bocconi. PhD in Statistics from Università di Trento. Visiting researcher at the Mathematics Department of Imperial College, London, at the Economic Department of Oslo University and at Center di Estudis Demografics, Barcelona.
Academic CV
Assistant Professor (Ricercatore) at Università Bocconi. From 2005 teaches the course Computational Statistics, for the PhD in Statistics and from 2012 teaches the compulsory graduate course in Quantitative Methods for Management (ACME).
From 2003 to 2011 and from 2015 Member of the PhD in Statistics Commitee. From 2004 to 2011, Coordinator of the Master of Science in Economic and Social Sciences at Università Bocconi.
Research areas
Bayesian approach to inference, in particular nonparametric bayesian inference, and applications to economic and social sciences. Methods for stochastich population forecasting.
Publications
SELECTED PUBLICATIONS
- Magni C. A., Veronese P., Graziani R.. 2017. Chisini means and rational decision making: equivalence of investment criteria. Mathematics and Financial Economics.
- Fattore G, Numerato D, Peltola M, Banks H, Graziani R, Heijnk R, Over E, Klitkou ST, Fletcher E, Mihalicza P, Sverèus S. 2015. Variation and determinants of mortality and length of stay of very low birth weight and very low for gestational age infants in 7 European Countries. Health Economics 24 (Suppl. 2): 65-87.
- R. Graziani, M. Guindani, P. Thall 2014. "Bayesian Nonparametric estimation of targeted effects on biomarker change to predict clinical outcome". Biometrics, 71 (1): 188-197.
- F. Billari, R. Graziani, E. Melilli 2014. "Stochastic Population Forecasting based on combinations of Expert Evaluations within the Bayesian Paradigm". Demography 51 (5): 1933-1954.
- A. Arbore, R. Graziani, S. Venturini 2014. "Understanding Personal Mobile Technologies: Decomposing and De-averaging the Value of a Smartphone". Journal of Information Systems, 28 (1), 167-185.
- F. Billari, R. Graziani, E. Melilli 2012. "Stochastic Population Forecasting based on Conditional Experts Opinions". Journal of the Royal Statistical Society, A, 175 (2): 491-511.
- R. Graziani, P. Veronese 2009. How to Compute a Mean? The Chisini Approach and Its Applications. The American Statistician, 63(1): 33-36.
- Cifarelli D.M., Graziani R., Melilli E. 2008. Bayesian Inference for Lancaster's Probabilities. Applied Mathematical Sciences, 2(33): 1619-1633.