ARIANNA BRIOSCHI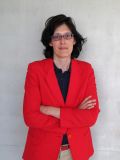 Lecturer
Department of Marketing

Courses a.y. 2021/2022
10787

ADVERTISING & MEDIA PLANNING
20314
SEMIOTICA APPLICATA AL MARKETING [MARKETING APPLIED SEMIOTICS]
30015
MARKETING
30223
COMUNICAZIONE DI MARKETING / MARKETING COMMUNICATION
30376
COMMUNICATION AND CULTURAL CONSUMPTION DECISIONS
30585
COMMUNICATION AND ADVERTISING LAB
Biographical note
Born in Milan. Degree in Business Administration from Università Bocconi with a specialization in Marketing (1995). PhD in Business Administration and Management from Università Bocconi (2000).
Academic CV
Bocconi Lecturer. She was a visiting scholar at the London Business School. She teaches in the Marketing Department of SDA Bocconi.
Research areas
Marketing communications. Semiotics applied to marketing. Application areas: the fashion and luxury items sector.
Publications
SELECTED PUBLICATIONS
A.Brioschi; A.Uslenghi (2015) "WHITE SPACE: idee non convenzionali sulla comunicazione", Egea
A.Brioschi, V.Fornari (2011) "Product Management" in E.Valdani (a cura di) "Marketing Management", Egea
A.Brioschi; A.Uslenghi (2009) "White Space: le nuove opportunità della comunicazione non convenzionale", Egea
A.Brioschi; A.Uslenghi (2009) "Marketing non convenzionale", in "Marketing e Fiducia" (a cura di S.Castaldo), Il Mulino
A.Brioschi (2005 ) "Is luxury selling Dreams? The Role of Advertisement in Shaping Luxury Brands' Meaning", in J.E. Schroeder, M. Salzer-Mörling (eds.) "Brand Culture", Routledge