ANTONELLA MORI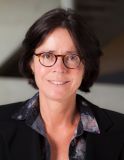 Researcher with Tenure
Department of Social and Political Sciences

Courses a.y. 2021/2022
20132
SCENARI ECONOMICI / ECONOMIC PROSPECTS
30066
ECONOMIA - MODULO 2 (MACROECONOMIA) / ECONOMICS - MODULE 2 (MACROECONOMICS)
Biographical note
Degree in Economic and Social Sciences from Università Bocconi (1987). Master in Economics of Latin America, Queen Mary and Westfield College, University of London (1991). PhD in Economics (1992).
Academic CV
Researcher in Economics. Teaches Macroeconomics and Economic Prospects. Researcher at ISLA, Istituto di Studi Latino Americani e delle Economie in Transizione. Teaches Macroeconomics for the Master in Diplomacy of the ISPI, Milan. From 1995 to 2001 she was professor of Macroeconomics for the MBA of SDA Bocconi. In October 2011, she received from the Ministry of Foreign Affairs the recognition for having favoured the strengthening of Italy-Latin America relations.
Research areas
International economics. Sustainable development. Latin America.
Publications
SELECTED PUBLICATIONS
G. Bird, A. Mori and D. Rowlands, Do the Multilaterals Catalyse other Capital Flows? A case study analysis" Third World Quarterly,Vol 21, No 3, June 2000. A.Mori, America latina tra recessione economica e crisi politiche in A. Colombo e N. Ronzitti (ed.) L'Italia e la politica internazionale, IAI- ISPI edizione 2003, Il Mulino. A.Mori, Economia: un miracolo della dittatura? in M. Chierici (a cura di) Allende. L'altro 11 settembre/30 anni fa, Nuova Iniziativa Editoriale, 2003. A.Mori, L'America latina nel 2004 in A. Colombo e N. Ronzitti (ed.) L'Italia e la politica internazionale, IAI- ISPI edizione 2005, Il Mulino. A.Mori, Il modello europeo di relazione bi-regionale: l'associazione strategica con l'America Latina, Politica Internazionale N. 1/2-3 gennaio/giugno 2006 (Roma: Ipalmo). A.Mori e C. Secchi, Regionalismi a confronto, A.Mori Il default: argentino e i suoi costi Aspenia Anno 12, numero 36, 2007. M. Grazzi and A. Mori The regulation of FDI in Latin America and the Caribbean: What impact on host countries? in Tondl, Gabriele (Ed.) Trade, Integration and Economic Development. The EU and Latin America, SpringerWienNewYork, 2008. A.Mori Non solo Bond Politica Internazionale, Roma, Ipalmo, Anno XXXIII, Numero Speciale 2008. A.Mori L'economia in America Latina: progressi e sfide e L'integrazione regionale: dal regionalismo aperto al regionalismo multiscopo in G. Chiaramonti (a cura di) Tra Innovazione e continuità: l'America Latina nel nuovo millennio, Padova Cleup, 2009. A.Mori Crisi o rilancio dell'integrazione in America Latina? Politica Internazionale, Roma, Ipalmo, Anno XXXIV, Numero 4/5 2009. A. Mori Brasile, il lato B dei BRIC, Economia&Management, N.1 Gennaio-febbraio 2010 A.Mori Il rinnovato interesse per l'America Latina in G. Bonvicini e A. Colombo (ed.) La Politica Estera dell'Italia, IAI- ISPI Edizione 2011, Il Mulino. A.Mori "Repubblica Federativa del Brasile: Il sistema economico e i rapporti economici internazionali" e " Le relazioni con l'Italia e l'Unione Europea" in P. Quercia e P. Magri (ed.) I BRICS e noi, Ed. Strategitaly 2011.