SALVATORE TESTA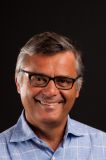 Senior Professor
Department of Management and Technology

Biographical note
Born April 28th, 1955. Degree in Business Administration from Università Bocconi (1981). International Teachers Program, Stockholm School of Economics (1982).
Academic CV
Assistant Professor in Business Administration, teaches Fashion Management at Università Bocconi. Senior Professor in the SDA Bocconi Strategic and Entreprenuerial Management Department. Founder of Fashion & Design Platform at SDA Bocconi.
Research areas
Strategies at Corporate and Business level in the Fashion and Design Industries. Strategies of Marketing and Sourcing Internationalization in the Fashion System. Positioning and growth Brand Strategies in the Fashion Pipeline. Interrelationships between Creativity and Management in the Cultural-Intensive Industries.
Publications
SELECTED PUBLICATIONS
300 idee di nuovi business, Milano: Edizioni Il Sole 24 Ore, 1987; "Lo sviluppo sistemico dei processi innovativi", in Economia & Management, 1988; Cambiamenti strategici nelle aziende del sistema moda, w.p. DIR, 1991; Il recupero di competitività internazionale del sistema moda italiano, w.p. DIR, 1992; "Stringere la filiera per una maggiore capacità di risposta al mercato", in Atti convegno Fondazione Ratti, 1993; Le imprese del sistema moda, Etas libri, 2000; "Dal Licensing alla joint venture: archetipi di accordo nella moda", in B. Giannelli, S. Saviolo (eds.), Il licensing nel sistema moda, Milano: Etas libri, 2001; Strategic Management in the Fashion Companies, Milano: Etas libri, 2002; "La specificità della filiera italiana della moda", in M. Belfanti F. Giusberti (eds.), Storia d'Italia - Annali 19 - La Moda, Einaudi, Collana Grandi Opere, 2003.