ANGELO PORTA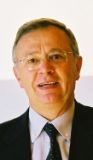 Senior Professor
Department of Economics

Biographical note
Born Novembre 27th, 1948. Degree in Economics from Università Bocconi. Received a Master of Arts from the Department of Economics, University of Chicago.
Academic CV
Current position
Professor of Economics at Bocconi University (from 1992).
Education and previous positions
"Laurea" in Economics at Bocconi University (1971).
Master of Arts - Department of Economics University of Chicago (1975).
Assistant professor at Università di Trento (from 1975 to 1976).
Associate professor at Bocconi University (from 1977 to 1987).
Full professor - Università di Genova (from 1987 to 1992).
Visiting Professor of Monetary and Financial Economics at the University of Lugano – USI (Università della Svizzera Italiana) (from 1997 to 2012)
Director of the "Paolo Baffi" Centre for Monetary and Financial Economics at Bocconi University (from 1990 to 2007)
Director of the Degree in Economics of Financial Markets and Institutions at Boccony University (from 1996 to 2002)
President of the "Paolo Baffi" Center on Central Banking and Financial Regulation (from 2008 to 2014)
Research areas
Macroeconomics and monetary economics. Currency and interest rates. Monetary policy, central banks and offers of currency and credit. Macroeconomic aspects of public finance. Macroeconomic policies and cyclical analysis. Financial economics. Regulation of financial markets.
Publications
SELECTED PUBLICATIONS
Il sistema creditizio: efficienza e controlli. Un'analisi teorica, Bologna: il Mulino, 1980; La moneta nei primi economisti marginalisti, Milano: Feltrinelli, 1980; "La fiscalità implicita nei controlli sul sistema bancario italiano e i tassi di interesse alcune quantificazioni preliminari", in Giornale degli Economisti, November December 1983; "Credito ed equilibrio macroeconomico: un riesame dello schema del credito totale interno", in Giornale degli Economisti, 1984; Financial Regulation, Implicit Taxes and Fiscal Adjustment in Italy, IMF, 1988; The Separation of Industry and Finance and the Specialization of Financial Institutions, Milano: EGEA, 1990; L'integrazione europea e la regolamentazione dei mercati finanziari, Milano: EGEA, 1992; L'usura in Italia, Milano: EGEA, 1997; Pension Funds and Financial Markets, Centro "Paolo Baffi", 1998; The Performance of the Eurosystem's Operational Framework: a Comparison with the Federal Reserve System, Centro "Paolo Baffi", 2000;"Single Authority in Financial Markets Supervision" in Financial Intermediation in the New Europe, Edward Elgar, 2004; La Banca Centrale Europea. La politica monetaria nell'area dell'Euro, Milano, EGEA, 2003;"La gestione delle crisi finanziarie nell'Unione Europea: quali strumenti e quali autorità?" in Bancaria, n. 6, 2007; "Giorgio Ambrosoli e Paolo Baffi. Due storie esemplari" (a cura di), Università Bocconi Editore, 2010; Unconventional Monetary Policies. Lessons from the Evolution of Balance Sheets of Four Central Banks (2007-2010), Centro Paolo Baffi, 2011.