MARLENE JUGL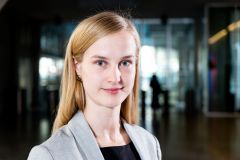 Assistant Professor
Department of Social and Political Sciences

Courses a.y. 2022/2023
20533
INSTITUTIONS, GOVERNMENT AND SOCIETY - MODULE II A
20545
PUBLIC POLICY AND ADMINISTRATION & HISTORY OF ECONOMIC THOUGHT
20609
PUBLIC ADMINISTRATION
30342
PUBLIC GOVERNANCE
Biographical note
I joined Bocconi in 2019 as Assistant Professor of Public Administration. I hold an MA in Public Administration from the University of Potsdam and a doctoral degree from the Hertie School in Berlin. I studied Political Science, Public Administration and French at the University of Potsdam, Sciences Po Lyon and the University of Warsaw. I was a visiting researcher at the European University Institute in Florence.
Academic CV
Research areas
My research interests include comparative public administration, the role of administrative traditions and culture, governance in small states, and the relation between politics and administration. In my doctoral research, I examined the various effects of country size on political and administrative systems.
Publications
SELECTED PUBLICATIONS
Jugl, Marlene. 2019. "Finding the Golden Mean: Country Size and the Performance of National Bureaucracies." Journal of Public Administration Research and Theory 29 (1): 118–32.
featured in JPART's virtual issues

Emerging Scholars

(2020) and

Developing and Emerging Economies

(2021)
Jugl, Marlene. 2020. "Country Size and the Survival of Authoritarian Monarchies: Developing a New Argument." Democratization 27 (2): 283–301.
Bach, Tobias, Marlene Jugl, Dustin Köhler and Kai Wegrich. 2021. "Regulatory agencies, reputational threats, and communicative responses." Regulation & Governance online first: 1–16.
Jugl, Marlene. 2022. "Country Size and Public Administration" Cambridge Elements in Public and Nonprofit Administration, Cambridge University Press.
Jugl, Marlene. 2022. "Administrative characteristics and timing of governments' crisis responses: A global study of early reactions to COVID-19." Public Administration.