JOSEPH-SIMON GOERLACH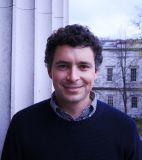 Assistant Professor
Department of Economics

Courses a.y. 2021/2022
30065
ECONOMIA - MODULO 1 (MICROECONOMIA) / ECONOMICS - MODULE 1 (MICROECONOMICS)
40275

STRUCTURAL ECONOMETRICS
Biographical note
Degree in International Economics from University of Tuebingen. Ph.D. in Economics, University College London.
Academic CV
Assistant Professor at the Department of Economics, Università Bocconi; Research Affiliate at the Bocconi Institute for Data Science and Analysis (BIDSA), the Centre of Economic Policy Research (CEPR), the Innocenzo Gasparini Institute for Economic Research (IGIER), the Institute for the Study of Labor (IZA) and the Laboratory for Effective Anti-Poverty Policies (LEAP); Research Fellow at the Centre for Research and Analysis of Migration (CReAM).
Research areas
Empirical microeconomics, migration, labor, development, political economy.
Publications
SELECTED PUBLICATIONS
The Dynamics of Return Migration, Human Capital Accumulation and Wage Assimilation (accepted at the Review of Economic Studies, with Jerome Adda and Christian Dustmann); Borrowing Constraints and the Dynamics of Return and Repeat Migration (accepted at the Journal of Labor Economics), Spillovers and Strategic Interactions in Immigration Policies (Journal of Economic Geography 2021, with Nicolas Motz); The Economics of Temporary Migrations (Journal of Economic Literature 2016, with Christian Dustmann).