JOSEPH-SIMON GOERLACH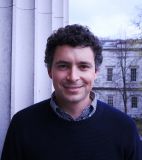 Assistant Professor
Department of Economics

Biographical note
Degree in International Economics from University of Tuebingen. Ph.D. in Economics, University College London.
Academic CV
Assistant Professor at the Department of Economics, Università Bocconi; Research Affiliate of the Innocenzo Gasparini Institute for Economic Research (IGIER).
Research areas
Empirical microeconomics, labor, development, migration.
Publications
SELECTED PUBLICATIONS
The Economics of Temporary Migrations (Journal of Economic Literature 2016, with Christian Dustmann); Selective Out-Migration and the Estimation of Immigrants' Earnings Profiles (Handbook of the Economics of International Migration 1A (edited by Barry Chiswick and Paul Miller) 2015, with Christian Dustmann).