RICCARDO ZECCHINA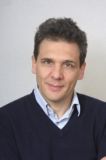 Full Professor
Department of Computing Sciences

Courses a.y. 2021/2022
30398
FUNDAMENTALS OF COMPUTER SCIENCE
30547
FOUNDATIONS OF PHYSICS II
30554
MATHEMATICAL MODELLING IN MACHINE LEARNING
30586
MACHINE LEARNING AND ARTIFICIAL INTELLIGENCE LAB
Biographical note
Italian Doctor Degree in Electronic Engineering (Torino, Politecnico, 1988) - PhD in Theoretical Physics (Turin University, 1993).
Academic CV
Full Professor in Theoretical Physics at Bocconi University, previously full Professor at Politecnico di Torino. He has been research scientist and head of the Statistical Physics Group at the International Centre for Theoretical Physics in Trieste ('97-'07).
Since 2018 he holds the Vodafone Chair in Machine Learning and Data Science.
International Awards:
- In 2016 Riccardo Zecchina received the Lars Onsager prize in Theoretical Statistical Physics by the American Physical Society (https://www.aps.org/programs/honors/prizes/onsager.cfm) with the citation: "For groundbreaking work applying spin glass ideas to ensembles of computational problems, yielding both new classes of efficient algorithms and new perspectives on phase transitions in their structure and complexity."
- Riccardo Zecchina is an Advanced grantee of the European Research Council (ERC) for the project "Optimization and inference algorithms from the theory of disordered systems" 2010-2015.
Research areas
His research interests lie at the interface between statistical physics, computer science and information theory. His current research interests are focused on machine learning and out-of-equilibrium phenomena.
His past studies include combinatorial optimization, probabilistic and message-passing algorithms, statistical physics of complex systems (disordered systems), out-of-equilibrium dynamics, analysis of algorithms and interdisciplinary applications of statistical physics (learning algorithms, inverse problems in systems biology, source coding, game theoretical models).
Publications