PIERO STANIG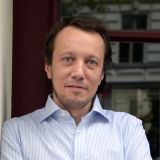 Associate Professor
Department of Social and Political Sciences

Courses a.y. 2021/2022
20612
POLITICAL SCIENCE - MODULE 1 (TOPICS IN COMPARATIVE POLITICS)
30317
POLITICAL SCIENCE AND COMPARATIVE POLITICS
Biographical note
Piero Stanig is Assistant Professor of Political Science at
Università Bocconi
in Milan, Italy.
His research agenda spans comparative politics, comparative political economy, and statistical methodology. His work appears in the Journal of Public Economics, Electoral Studies, and the American Journal of Political Science. Piero received his Ph.D. in Political Science from Columbia University. Before coming to Bocconi, he taught methodology, political science, and political economy at the
LSE
for three years and at the
Hertie School of Governance
for another three. He was a pre-doctoral fellow at the
Alexander Hamilton Center for Political Economy
at
NYU
, where he taught courses on political and bureaucratic corruption. He is also a member of the
Advisory Council
of the
Ibrahim Index of African Governance
.
Academic CV
Assistant Professor of Political Science. Ph.D., Political Science, Columbia University 2009.
Research areas
Comparative politics, comparative political economy, quantitative methodology.
Publications
SELECTED PUBLICATIONS
"Regulation of Speech and Media Coverage of Corruption: An Empirical Analysis
of the Mexican Press." Forthcoming, American Journal of Political Science.
"Political Polarization in Retrospective Economic Evaluations During Recessions
and Recoveries." 2013. Electoral Studies32(4):729-745.
"Church-State Separation and Redistribution" (with John Huber). 2011. Journal
of Public Economics 95(7-8):828-836.