GABRIELE GAGLIANI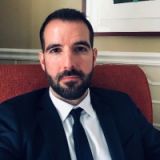 Lecturer
Department of Law

Courses a.y. 2021/2022
11366

TECHNOLOGY AND INTERNATIONAL ECONOMIC LAW
11988

PRIVATE LAW - FUNDAMENTALS B
11989

PRIVATE LAW - FUNDAMENTALS A
20143
INTELLECTUAL PROPERTY AND COMPETITION LAW
30058
COMPARATIVE BUSINESS AND EUROPEAN LAW
30428
INTRODUCTION TO THE LEGAL SYSTEM - MODULE 1
30431
LAW - MODULE 2 (PRIVATE LAW)
50205
SUMMER SCHOOL IN LAW
50242
COMPARATIVE PRIVATE LAW
50257
INTERNATIONAL BUSINESS AND DIGITAL LAW
Biographical note
Double Ph.D. at the École Normale Supérieure de Paris-Saclay in Paris (France) (Avec les félicitations du jury/with distinction), and at the University of Palermo (Italy) (Excellent).
Diploma of the Helsinki Summer Seminar in International Law (With distinction), Erik Castrén Institute of International Law and Human Rights/University of Helsinki (Finland).
LL.M. in International Economic Law and Policy/IELPO LL.M. (With distinction), University of Barcelona (Spain).
LL.B. and Master (Cum laude) in Law from the University of Milan (Italy), academic curriculum in international and European Union law.
Academic CV
Lecturer at Bocconi University. Adjunct Professor at Case Western Reserve University, Cleveland (Ohio, U.S.A.). Previously, Contract Professor and Coordinator of the LL.M. in Law of Internet Technology at Bocconi University.
He has taught and held seminars in different institutions both in Italy and abroad in English, French, Italian and Spanish. He holds and has held visiting positions at the University of Poitiers/CECOJI (France), the British Institute of International and Comparative Law (U.K.), and the Master in Études Internationales – Développement Europe-Afrique of the Senghor University of Alexandria/University of Szeged.
He is a Member of the American Society of International Law (ASIL), the European Intellectual property Teachers' Network (EIPTN), and the Society of International Economic Law (SIEL). He is the Chair of the EIPTN Working Group on Teaching IP and International Economic Law (Trade and Investment).
Research areas
International and European Economic Law (Trade, Investment, and Intellectual Property), Public International Law, International Dispute Resolution.
Publications
SELECTED PUBLICATIONS
Cybersecurity, Technological Neutrality and International Trade Law, 23 Journal of International Economic Law 3 (2020).
The WIPO-WTO Relationship: Moving Beyond the Forum Shifting Theory?, International Organizations Law Review.
The ICJ and Cultural Heritage: International Cultural Heritage Law Through the Lenses of the World Court Jurisprudence, in A.-M. Carstens, E. Varner (Eds.), Intersections in International Cultural Heritage Law, (Oxford University Press).
Interpreting and Applying Article XX(f) of the GATT 1994: 'National Treasures' in International Trade Law, 2 Santander Art and Culture Law Review 5 (2019).
The Extraterritorial and Post-Discrimination Dimension of the SPS Agreement Put to the Test in Korea-Radionuclides (Japan) Case, Diritto del Commercio Internazionale 4 (2019).
El Acuerdo Comercial de Principio Entre la Unión Europea y México: Avances, Límites y Perspectivas Futuras, 7 Revista Latinoamericana de Derecho Comercial Internacional 1 (2019).
Recent Evolution in International Trade in the Transatlantic Area: Unexpected Consequences or Nothing New Under the Sun?, 53 Journal of World Trade 4 (2019).
La Controversa Definizione di "Investimento" alla Prova della Cultura e del Patrimonio Culturale e Naturale: Convergenze, Divergenze e Possibili Integrazioni, Diritto del Commercio Internazionale 1 (2019).
Supervening Impossibility of Performance and the Effect of Armed Conflict on Investment Treaties: Any Room for Manoeuvre?, in K. F. Gómez, A. Gourgourinis, C. Titi (Eds.), International Investment Law and the Law of Armed Conflict, European Yearbook of International Economic Law (Springer: 2019).
Governance of Intellectual Property (with L. Manderieux), in A. Farazmand (Ed.), Global Encyclopedia of Public Administration, Public Policy and Governance (Springer: 2018).
Pro Bono Pacis? Le Interazioni tra Diritto Internazionale degli Investimenti e Patrimonio Culturale, Rivista di Diritto Internazionale 3 (2017).
International Economic Disputes, Investment Arbitration and Intellectual Property: Common Descent and Technical Problems, 51 Journal of World Trade 2 (2017).
Regards Croisés sur les Conventions UNESCO et le Droit International de l'Économie: Entre Interactions Pratiques et Gouvernance Mondiale, in L. Manderieux, M. Vellano (Eds.), Éthique Globale, Affirmations Identitaires et Culturelles et Droit International de l'Économie, (G.Giappichelli Editore: 2017).
The Interpretation of General Exceptions in International Trade and Investment Law: Is a Sustainable Development Interpretive Approach Possible?, 43 Denver Journal of International Law and Policy 4 (2015).