MARIO AMORE
Personal page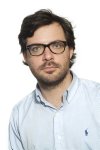 I am Assistant Professor at the Department of Management and Technology at Bocconi University. I got a PhD from Copenhagen Business School and a Master of Science in Economics from Bocconi University. Here you can find my full CV.
My research interests are in the field of corporate governance and family firms. Furthermore, I am interested in the interactions between finance and innovation, and in the behavioral aspects of corporate decision-making. Here is the link to my Google Scholar page.
PUBLICATIONS
Executive gender, competitive pressures, and corporate performance (with Orsola Garofalo) ​​Journal of Economic Behavior and Organization, forthcoming.
​​
Social capital and family control
Explorations in Economic History, forthcoming.
​​​​
Corporate governance and green innovation (with Morten Bennedsen)
Journal of Environmental Economics and Management (2016), 75: 54-72
Companies learning to innovate in recessions
Research Policy (2015), 44: 1574-1583
​​​​
Gender interactions within the family firm (with Orsola Garofalo and Alessandro Minichilli)
Management Science (2014), 60: 1083-1097
​​​​​​
CEO succession mechanisms, organizational context, and performance: a socio-emotional wealth perspective on family-controlled firms (with Alessandro Minichilli, Guido Corbetta and Mattias Nordqvist)
Journal of Management Studies (2014), 51: 1153-1179
​​​​
The value of local political connections in a low-corruption environment (with Morten Bennedsen)
Journal of Financial Economics (2013), 110: 387-402
​​​​​​
Credit supply and corporate innovation (with Cedric Schneider and Alminas Zaldokas)
Journal of Financial Economics (2013), 109: 835-855
​​​​​​
How do managerial successions shape corporate financial policies in family firms? (with Alessandro Minichilli and Guido Corbetta)
Journal of Corporate Finance (2011), 17: 1016-1027
SELECTED WORKING PAPERS
Local political uncertainty, family control and investment behavior (with Alessandro Minichilli)
​
Corporate governance and international trade (with Alminas Zaldokas)
​
​
Executive gender and tournament incentives (with Orsola Garofalo)
Last change 13/10/2016