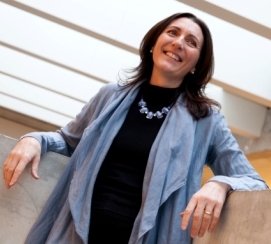 Maristella Botticini is Professor of Economics and Fellow of IGIER (the Innocenzo Gasparini Institute for Economic Research) at Università Bocconi in Milano. She has been IGIER director from 2011 to 2019.

She started her career in 1997 as an assistant professor in the Department of Economics of Boston University, where she was promoted to associate professor with tenure in 2004. From 2006 to 2009 she has been fellow of the Collegio Carlo Alberto and professor of economics at the Università degli Studi di Torino.

She is the recipient of a CAREER grant from the National Science Foundation (2000-2004), an Alfred P. Sloan research fellowship (2002-2004), and an Advanced ERC research grant from the European Research Council (2012-2018).

She is a Research Fellow and Vice-president of the Center for Economic Policy Research (CEPR), as well as Fellow of the European Economic Association (EEA).
The brand-new IGIER Visiting Students Initiative she developed in 2011 shows her commitment and dedication to teaching and student mentoring.

Since 2011 she is an indipendent board member of CIR (Compagnie Industriali Riunite).
Her research combines the "telescope" of economics and the "microscope" of history with a methodological approach that rejects alike facts without theory and theory without facts. Her research topics include Jewish economic history, marriage markets in comparative perspective, the empirical analysis of contracts, and the origins and development of maritime insurance contracts in medieval and Renaissance Italy. In the past few years she has been working on two book projects: The Chosen Few: How Education Shaped Jewish History, 70 - 1492, with Zvi Eckstein, published in 2012 by Princeton University Press, winner of the 2012 National Jewish Book Award in the category of "scholarship" (Nahum Sarna Memorial award), and translated in seven languages; and Price of Love: Marriage Markets in Comparative Perspective), to be published by Princeton University Press. She is currently working on a new book The Chosen Many: How Demography and Institutions Shaped Jewish History in Eastern and Central Europe, 1500-1930, with Zvi Eckstein and Anat Vaturi, under contract with Princeton University Press (expected publication date: 2022).

She earned her Laurea degree in Economics at Università Bocconi in 1990 and her PhD in Economics at Northwestern University in the United States in 1997.
Inspiring motto: "volere, potere".