ALESSANDRA CILLO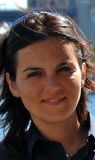 Adjunct Professor
Department of Decision Sciences

Courses a.y. 2018/2019
11102

DECISIONS AND UNCERTAINTY
20486
FONDAMENTI DI BUSINESS ANALYTICS / PRINCIPLES OF BUSINESS ANALYTICS
30063
MATEMATICA - MODULO 2 (APPLICATA) / MATHEMATICS - MODULE 2 (APPLIED)
Biographical note
Born on the 5th of April, 1977. Ph.D. in Management, Decision Sciences, Insead (2007). M.Sc. (2004), Insead, France. Laurea degree in Business Administration from Luigi Bocconi University, Milan (2001).
Academic CV
Assistant Professor in Decision Sciences at Luigi Bocconi University (2009). Assistant Professor (2007-2009) in Managerial Decision Sciences at IESE Business School, Barcelona, Spain.
Research areas
Behavioral models of decision under risk: Theory and experiments. Multiattribute utility. Risk-Value modeling and stochastic dominance. Value of information and importance meausures.
Selected publications
On the Relationship between Safety and Decision Significance, with E. Borgonovo and C.L. Smith, forthcoming,

Risk Analysis

Deciding with Thresholds: Importance Measures and Value of Information€, with E. Borgonovo,

Risk Analysis

, 37(10), 2017: 1828-1848
Elicitation of Multiattribute Value Functions through High Dimensional Model Representations: Monotonicity and Interactions, with F. Beccacece, E. Borgonovo, G. Buzzard and S. Zionts,

European Journal of Operational Research

, 246(2), 2015: 517-527
A Tailor-Made Test of Intransitive Choice, with A. Baillon and H. Bleichrodt, Operations Research, 63(1), 2015: 198-211
Mean-risk Analysis with Enhanced Behavioral Content, with P. Delquié, European Journal of Operational Research, 239, 2014: 764-775
A Quantitative Measurement of Regret Theory, with H. Bleichrodt and E. Diecidue,

Management Science,

56(1), 2010: 161-175
Disappointment without Prior Expectation: A Unifying Perspective on Decision under Risk, with P. Delquié,

Journal of Risk and Uncertainty

, 33, 2006: 197-215
Applying the Benchmarking Procedure: A Decision Criterion of Choice under Risk, with F. Beccacece,

Theory and Decision

, 61(1), 2006: 75-91
Expectations, Disappointment, and Rank-Dependent Probability Weighting, with P. Delquié,

Theory and Decision

, 60(2-3), 2006: 193-206