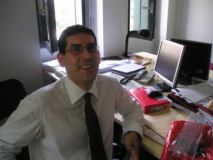 Courses a.y. 2013/2014
20127
FINANZA AZIENDALE (Introduzione alle valutazioni) / CORPORATE FINANCE (Business valuation)

Biographical note
Degree in Business Administration and PhD in Business Administration & Management from Bocconi University.

Academic CV
Assistant Professor of Corporate Finance. Visiting Scholar, Boston College (2003) and Cass Business School (2006). Visiting Fellow, Harvard University (2007-2008). Deputy Director, Clefin-Finance MSc.

Research areas
Corporate finance. Corporate governance. Investment banking.

Selected publications
Zanetti L. and Gianfrate G.(forthcoming), Partnership versus Corporation: Untangling the Governance Dilemma of Corporate Venture Capital, Corporate Ownership & Control;
Gianfrate G. (2007), "What Do Shareholders' Coalitions Really Want? Evidence from Italian Voting Trusts", Corporate Governance: An International Review, vol. 15(2);
Gianfrate G. and L. Zanetti (2007), "Shareholders' Coalitions and Control Contestability: The Case of Italian Voting Trust Agreements", Corporate Ownership & Control, vol. 4.