MARIA PAOLA MARIANI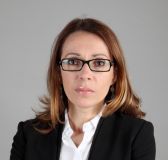 Associate Professor
Department of Law

Courses a.y. 2020/2021
Biographical note
Degree in Law from the Università degli Studi di Milano. PhD in International Economic Law.
Academic CV
Associate professor in International and EU Law.

Research areas
Private international law and EU law.
Publications
SELECTED PUBLICATIONS
BOOKS
Lasciare l'Unione Europea: riflessioni giuridiche sul recesso nei giorni di Brexit, EGEA, Milano, 2018
con A. Lang, La politica estera di difesa e di sicurezza comune dell'Unione europea, GIAPPICHELLI, Torino, 2014;
Le relazioni internazionali dell'Unione europea: aspetti giuridici della politica estera di sicurezza e di difesa comune, GIUFFRÉ, Milano, 2005.
Il leasing finanziario internazionale tra diritto uniforme e diritto internazionale privato, CEDAM, Padova, 2004.
ARTICLES AND BOOK CHAPTERS
From market fragmentation to market integration in the EU insurance industry: can EU regulation unify what is separate at birth?, European Law Review, Issue 5/2017, pp. 657-676

Evoluzione e nuovo assetto del sistema di regolazione e vigilanza del mercato assicurativo in Italia tra diritto nazionale e diritto dell'Unione europea, in corso di pubblicazione su in Diritto del Commercio Internazionale, n. 2/2017, pp.365-388

The effects of corruption on contracts in Italy: the long road towards a legal and fair, competitive market, in Bonell Michael Joachim and Meyer Olaf, The Impact of Corruption on International Commercial Contracts, Springer, 2015, pp. 189-204.

Negotiated Settlements for Corruption Offences: Position in Italy, in Abiola Makinwa (eds.), Negotiated Settlements for Corruption Offences
A European Perspective, Eleven international publishing, 2015.

Concorrenza e mercato assicurativo in Italia: la distribuzione dei servizi d'assicurazione tra normativa nazionale e diritto dell'Unione europea, in M. Frigessi di Rattalma, Assicurazioni e concorrenza: efficienza della regolazione ? Giappichelli, Torino, 2014.

The Future of BITs between EU Member States: Are Intra-EU BITs Compatible with the Internal Market?, in Sacerdoti (Eds), General Interests of Host States In International Investment Law, Cambridge University Press, 2014.

L'adesione dell'Italia alla convenzione civile del Consiglio d'Europa sulla corruzione: la tutela privatistica dei diritti lesi da pratiche corruttive, in Diritto del commercio internazionale, 2/2013

How damages recovery actions can improve the fight against corruption: the crisis of the criminal law policies and the role of private enforcement in an Italian case of judicial corruption, in Crime Law and Social Change, 1/ 2013.

Recognition and enforcement of judgments in carriage of good by road matters in the European Union, in Journal of private international law, n. 1/2012