FABRIZIO ONIDA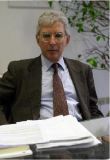 Contract Professor Senior
Department of Economics


Courses a.y. 2015/2016
40302

INTERNATIONAL ECONOMICS

Biographical note
Born in Milan on March 15th, 1940. Degree in Economics from Università Bocconi (1964). M.A. in Economics from the University of Michigan (Ann Arbor, USA).

Academic CV
Full Professor of International Economics at Università Bocconi since1983. President of CESPRI Centre for Research on Innovation and Internationalisation. From 1989 to 1995 he was Co-ordinator of the Degree in Economics. He previously taught at the Universities of Milan and Modena. He was the Italian delegate for the OECD for science and technology policy, president of the Istituto per la Ricerca Sociale di Milano, president of the Istituto per il Commercio Estero.

Research areas
International economics. International trade. Economic integration. Multinational corporations. Development aid. Open macroeconomics. Economic development. Technological innovation and competition.

Selected publications
Multinational firms, International Competition and Oligopolistic Rivalry: Theoretical Trends, New York, St Martins Press, 1992; "Integrazione internazionale e vincolo estero alla crescita dell'economia italiana: una riconsiderazione", in U.I.C., Studi per il Cinquantenario, Bari: Laterza, 1995; Protezionismo strategico (ed.), Bologna: SIE-Il Mulino, 1996; "The Uruguay Round and International Diffusion of Innovation", in R.Faini - E.Grilli (eds.), Multilateralism and Regionalism after the Uruguay Round, New York: Macmillan, 1997; "Trade Policy and Competition Policy", in M. Motta, F. Onida, Giornale degli Economisti e Annali di Economia, Vol. 56, n. 1-2, 1997; "Integrazione economica internazionale, povertà, standard sociali, diritti umani", in Moneta e Credito, n.204, 1998; "Crescita, competitività e dimensioni dimpresa nella proiezione internazionale del sistema produttivo dellItalia", in Economia Italiana, n.3, 2002; Eastern enlargement: opportunity for Lombardy-based enterprises, in Transition Studies Review, 34, vol. X, 2, 2003; Se il piccolo non cresce. Le PMI italiane in affanno, Bologna: Il Mulino, 2004; US, Europe and the developing world: transatlantic challenges for world integration, (ISPI 70th anniversary Conference 20-21 February 2004); "Foreign Ownership and Firm Performance: the case of Italy (with S. Mariotti and L. Piscitello), in H. Huizinga, L. Jonung (eds.), The Internationalisation of Asset Ownership in Europe, Cambridge University Press, 2005; La nueva Europa: amenza o amenazada? (The New Europe: challenger or challenged?), in Boletìn Informativo Techint 318, Septiembre-Diciembre 2005; Lintegrazione economica USA-UE e il rafforzamento del clima per gli investimenti, in Secchi C. and Sassoon E. (eds.), Alleanze alla prova. Europa e Stati Uniti tra cooperazione e conflitto, Milano: Università Bocconi Editore, 2006.