GIORGIO INVERNIZZI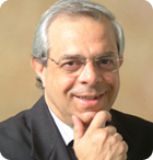 Full Professor
Department of Management and Technology

Courses a.y. 2020/2021
10748

STRATEGIA CORPORATE [CORPORATE STRATEGY]
10781

BASIC MARKET STRATEGY
11168

AZIENDE E MERCATI [FIRMS AND ENVIRONMENT]
11819

FIRM AND ITS ENVIRONMENT - ON-LINE PREPARATORY COURSE
20364
PRECORSO DI STRATEGIA COMPETITIVA / BUSINESS STRATEGY - PREPARATORY COURSE
20480
PERFORMANCE MEASUREMENT E CORPORATE STRATEGY - MODULO II (CORPORATE STRATEGY) / PERFORMANCE MEASUREMENT AND CORPORATE STRATEGY - MODULE II (CORPORATE STRATEGY)
30012
STRATEGIA COMPETITIVA / BUSINESS STRATEGY
30060
ECONOMIA AZIENDALE E GESTIONE DELLE IMPRESE / MANAGEMENT
Biographical note
Born December 21st, 1953. Degree in Economics from Università Bocconi.
Academic CV
Full Professor of Strategic Management. Vice President of the Board of the Accademia Italiana di Economia Aziendale.
Research areas
Strategy. Economic-financial strategy. Internal entrepreneurship. Corporate Strategy. Strategic management accounting.
Publications
SELECTED PUBLICATIONS
Analisi economica d'impresa, Etas Libri, 1985; Management imprenditoriale, F. Angeli, 1990; Analisi di bilancio e diagnosi strategica, Etas Libri, 1990; Il sistema delle strategie a livello aziendale, McGraw-Hill, 1999; Strategic Management Accounting, EGEA, 2005; Corporate Strategy, McGraw-Hill, 2007; Strategia aziendale e vantaggio competitivo, McGraw-Hill, 2008; La strategia nelle imprese multi business, McGraw-Hill, 2011; Corporate level strategy (con Collis, Montgomery e Molteni), McGraw-Hill, 2012; Le strategie competitive, McGraw-Hill, 2014.