SANDEEP DEVANATHA PILLAI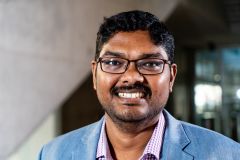 Assistant Professor
Department of Management and Technology

Courses a.y. 2020/2021
11866

ENTREPRENEURSHIP AND BUSINESS PLANNING
11868

EMPIRICAL METHODS FOR INNOVATION STRATEGIES
20335
ENTREPRENEURSHIP AND BUSINESS PLANNING
20568
EMPIRICAL METHODS FOR INNOVATION STRATEGIES
30450
FUNDAMENTALS OF MANAGEMENT
Biographical note
Ph.D. (Strategic Management & Entrepreneurship), University of Maryland, 2019
Dissertation Committee: B. Goldfarb (Co-Chair), D. Kirsch (Co-Chair), R. Agarwal, S. Braguinsky, D. Sicilia
Master of Business Administration, University of Toronto, 2014
Master of Engineering (Electric Power),University of Waterloo, 2011
Bachelor of Applied Science (Honors Electrical Engineering), University of Waterloo, 2009
Industry Experience: Hydro One Networks Inc., Toronto, Canada, 2009-2014
Academic CV
Sandeep joined Bocconi in Fall 2019. Sandeep is interested in studying the determinants of firm performance in early-stage industries. Sandeep explores the challenges that entrepreneurs face during the early stages of an industry, and the capabilities they need to overcome those challenges.
Research areas
Industry Evolution, Scaling, Experimentation, Early Stage Industry, Historical Methods in Strategy
Publications
SELECTED PUBLICATIONS
Pillai, S.D., Goldfarb, B., and Kirsch, D., (2019). The Origins of Firm Strategy: Learning by Economic Experimentation and Strategic Pivots in the Early Automobile Industry Strategic Management Journal.
Goldfarb, B., Zavyalova, A., and Pillai, S.D., (2018). Did Victories in Certification Contests Affect the Survival of Organizations in the American Automobile Industry During 1895-1912, Strategic Management Journal.