DOMENICO ROCCO CAMBREA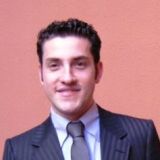 Research Fellow
Department of Management and Technology

Courses a.y. 2019/2020
20123
SISTEMI DI CORPORATE GOVERNANCE / CORPORATE GOVERNANCE
20212
ANALISI STRATEGICHE E VALUTAZIONI FINANZIARIE [STRATEGIC ANALYSES AND FINANCIAL VALUATION]
30060
ECONOMIA AZIENDALE E GESTIONE DELLE IMPRESE / MANAGEMENT
50013
ECONOMIA AZIENDALE E BILANCIO - MODULO 1 (ECONOMIA AZIENDALE) [MANAGEMENT AND ACCOUNTING - MODULE 1 (MANAGEMENT)]
Biographical note
PhD in Applied Economics and Managerial Decisions, University of Calabria
Master Degree in Business Administration, University of Calabria
Bachelor in Business Administration, University of Calabria
Academic CV
Researcher with grant, Bocconi (since 2017)
DAAD Postdoctoral Researcher, Goethe University of Frankfurt (January-July 2016)
He was visiting PhD scholar at Trent University of Nottingham (2014) and Goethe University of Frankfurt (2015)
Research areas
Cash holdings, Corporate Governance, Family Firms
Publications
SELECTED PUBLICATIONS
Cambrea, D.R., Colonnello, S., Curatola, G., & Fantini, G.. Abandon ship: deferred compensation and risk-taking incentives in bad times (february 15, 2017).

A

vailable at ssrn: https://ssrn.com/abstract=2789751
La Rocca, M., Cambrea, D.R., & Cariola, A. (2017). The role of corruption in shaping the value of holding cash. Finance Research Letters

,

20

, 104-108.

Rubino, F.E., Tenuta, P., & Cambrea, D.R. Board characteristics effects on performance in family and non-family business: a multi-theoretical approach. Journal of Management & Governance

, 1-36.