ANNE JEANNE MARIE JOSEPH SERVANTIE JACQUEMINET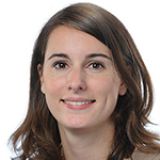 Assistant Professor
Department of Management and Technology

Courses a.y. 2019/2020
30437
INTERNATIONAL BUSINESS
Biographical note
Master of Science in International Management from HEC Paris and the Community of European Management Schools (CEMS). Phd in Strategy and Management from HEC Paris.
Academic CV
Anne Jacqueminet is Assistant Professor of Management at Bocconi University, Milan. She obtained her PhD in Strategic Management from HEC Paris and received the AIB Buckley & Casson Best Dissertation Award. Her work has been published in the Journal of International Business Studies and Organization Science. Anne Jacqueminet serves as ad-hoc reviewer for several journals and conferences. She currently teaches Business Strategy and CSR and Business Ethics in the Bachelor program of Bocconi University. Prior to joining academia, she had worked for four years as a consultant in climate change and sustainability.
Research areas
Her current research looks at the antecedents, processes and consequences of strategic implementation of sustainability practices within multinational enterprises (MNEs) as well as the relationship between MNEs' corporate strategies and their corporate social (ir)responsibility.
Publications
SELECTED PUBLICATIONS
Ups and Downs: the Role of Legitimacy Judgment Cues in Practice Implementation. Forthcoming in the Academy of Management Journal. With Rodolphe Durand.
Practice implementation within a multidivisional firm: Intra-organizational pressures and value consistency. Forthcoming in Organization Science.
CSR Strategic Implementation in MNEs: The Role of Subsidiaries' Stakeholders. 2018. In Advances in Strategic Management. Sustainability, Stakeholder Governance and Corporate Social Responsibility (p169-195): Emerald Group Publishing Limited . With Lilach Trabelsi.
CSR Implementation in MNEs: The Role of Distance and Prioritization of Demands. 2017. In Progress in International Business Research. Distance in International Business: Concept, Cost and Value (pp. 363-378). Emerald Publishing Limited.
Peer Conformity, Attention, and Heterogeneous Implementation of Practices in MNEs. 2015. Journal of International Business Studies, 46.8(2015):917-937. With Rodolphe Durand.