THOMAS EMILE ROBERT LE BARBANCHON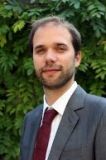 Assistant Professor
Department of Economics

Courses a.y. 2018/2019
Biographical note
Ph.D. Economics Ecole Polytechnique France, M.Sc. Economics Universitat Pompeu Fabra Spain, Diplôme d'ingénieur statisticien-économiste ENSAE France, B.Sc. Applied Mathematics Ecole Polytechnique France.
Academic CV
Bocconi University - Assistant Professor in the department of economics, Harvard University - Visiting scholar, CREST - Research Associate (post-doc position), French Ministry of Labor - Economist, French Institute of Statistics and Economic Studies (INSEE) - Economist.
Research areas
Primary Fields: Labor Economics, Public Finance; Secondary Field: Econometrics
Selected publications
Behaghel L, Crépon B, Gurgand M. and T Le Barbanchon. Please Call Again: Correcting Non-Response Bias in Treatment Effect Models. The Review of Economics and Statistics, 2015; Behaghel L, Crépon B and T Le Barbanchon. Unintended Effects of Anonymous Resumes. American Economic Journal: Applied Economics, 7(3), July 2015; Hairault J-O, Le Barbanchon T and T Sopraseuth. The Cyclicality of the Separation and Job Finding Rates in France. European Economic Review, 76, May 2015.