LUIGI TESTA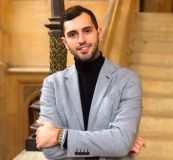 Research Fellow
Department of Law

Courses a.y. 2020/2021
11990

PUBLIC LAW - FUNDAMENTALS C
30004
DIRITTO - MODULO 2 (PUBBLICO) / LAW - MODULE 2 (PUBLIC LAW)
50058
DIRITTO COSTITUZIONALE ITALIANO ED EUROPEO [ITALIAN AND EUROPEAN CONSTITUTIONAL LAW]
50097
DIRITTO COSTITUZIONALE (CORSO PROGREDITO) - DIRITTO PUBBLICO DELL'ECONOMIA [ADVANCED CONSTITUTIONAL LAW - REGULATION IN ECONOMICS]
Biographical note
In October 2011 he graduated in Law, summa cum laude, at Bocconi University of Milan. In December 2011 he won a scholarship to attend the "Seminario di Studi e Ricerche Parlamentari Silvano Tosi" promoted by the University of Florence, the Chamber of Deputies and the Senate. In 2016 he obtained a PhD in Comparative Public Law from the University of Pavia. He was Visiting Researcher at Institute of European and Comparative Law, University of Oxford (Michaelmas Term 2019).
Academic CV
Since June 2017 he has been a Researcher with grant in Constitutional Law at Bocconi University of Milan. Since 2016 he has been Lecturer in the course of Constitutional Law, Regulation in Economics and Public Law.
Research areas
Constitutional Law. Forms of government. Regulation in Economics. Parliaments in the Budget Process.
Publications
SELECTED PUBLICATIONS
Monographic work
L. Testa, Il bilancio in Parlamento. Elementi per una comparazione, Egea, Milano, 2019
Other publications
L. Testa, Il bilancio in Parlamento nella nuova costituzione cubana: un'occasione mancata?, in DPCE on line, 1-2020
L. Testa, La giurisprudenza della Corte Suprema degli Stati Uniti nei terms 2017/2018 e 2018/2019, in Giurisprudenza costituzionale, 5-2019
L. Testa, «Ma in America questo non si può». La lotta alla public corruption negli Stati Uniti, in DPCE on line, 1-2019
L. Testa, Responsabilità democratica della BCE e Internal Review dei suoi atti, in Diritto Pubblico Comparato ed Europeo, 4-2018
L. Testa, Rendere «afferrabile» il potere: alla ricerca di un giudice per gli atti di vigilanza bancaria, in Diritto Pubblico Comparato ed Europeo, 1-2018
G. Romeo, L. Testa, La giurisprudenza della Corte Suprema degli Stati Uniti nei terms 2014/2015 e 2015/2016, in Giurisprudenza costituzionale, 5-2017
L. Testa, Prime note sul Budget Process dell'era Obama: un regular disorder «ultima spiaggia» dello scontro politico?, in Nomos – Le attualità nel diritto, 2/2016
L. Testa, Le sessioni parlamentari di bilancio allo stress test: tentativi di una diagnosi, in Diritto Pubblico Comparato ed Europeo, 3-2016
E. Mostacci, L. Testa, «Sous le signe de l'Hexagone»: le metamorfosi del Front National nella sfida alla lealtà repubblicana, in Diritto Pubblico Comparato ed Europeo, 3-2015
L. Testa, Il Rappresentante dell'unità nazionale "a giudizio", in Rassegna Parlamentare, 2/2015
L. Testa, Il sindacato di costituzionalità in Sudafrica, tra common law e civil law, in Federalismi.it, febbraio 2015
L. Testa, Dopo la crisi, la prima "crowsourced Constitution": commento al progetto di una nuova Costituzione per l'Islanda, in Diritto Pubblico Comparato ed Europeo, 1-2014
L. Testa, Il Welfare State spagnolo tra dichiarazioni solenni ed emergenza economica, in Diritto Pubblico Comparato ed Europeo, 4-2013
L. Testa, L'ipostasi del Presidente della Repubblica e le difficoltà di una ricostruzione unitaria, in Rivista dell'Associazione dei Costituzionalisti Italiani, 3-2013
L. Testa, Le multy-party actions nel Regno Unito e loro profili pubblicistici, in Diritto Pubblico Comparato ed Europeo, 3-2012
L. Testa, E. Mostacci, La decisione di finanza pubblica nelle dinamiche delle forme di governo, in G.F. Ferrari (cur.), Diritto pubblico dell'economia, Milano, EGEA, 2019
L. Testa, Storia costituzionale d'Italia, in G.F. Ferrari, L. Cuocolo, O. Pollicino, A. Vedaschi (cur.), Diritto pubblico, Milano, EGEA, 2019
L. Testa, La Pubblica Amministrazione, in G.F. Ferrari, L. Cuocolo, O. Pollicino, A. Vedaschi (cur.), Diritto pubblico, Milano, EGEA, 2019
L. Testa, La riforma delle istituzioni; Il mercato unico; L'unione monetaria e i mercati finanziari, in L. Cuocolo (cur.), The State of Europeans, Milano, Egea; 1a ed. 2017; 2a ed. 2018
L. Testa, The President and the «regular disorder» of the Budget process, in G. F. Ferrari (ed.), The American Presidency after Barack Obama (2009-2016), Eleven, L'Aia, 2017
L. Testa, Gli «inquilini del Quirinale» e i processi penali della Seconda Repubblica, in A. Apollonio (cur.), Legge e processo penale nella Seconda Repubblica, Roma, Carrocci, 2015