GIANFRANCO SICILIANO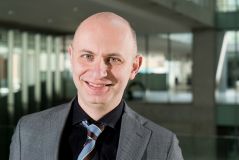 Assistant Professor
Department of Accounting

Courses a.y. 2018/2019
30426
BILANCIO - MODULO 1 / ACCOUNTING AND FINANCIAL STATEMENT ANALYSIS - MODULE 1
30526
FINANCIAL ANALYSIS AND PERFORMANCE MEASUREMENT
Biographical note
Gianfranco Siciliano received his Ph.D. in Accounting and Master of Arts (MA) in Economics at Duke University, in Durham (NC - USA). He was visiting researcher at the University of Texas at Dallas (TX - USA). He also studied at the Erasmus Hogeschool in Brussels (Belgium), at Erasmus University Rotterdam (The Netherlands), and as visiting doctoral student, at the University of Georgia in Athens (GA - USA). He obtained a doctorate and a degree in Business Administration (summa cum laude) at the University of Parma (Italy).
Before joining academy, he worked at the Internal Audit Department of Philips International NV in Eindhoven (The Netherlands) and at several accounting firms in Milan and Parma.
An Italian national, he is fluent in English, Dutch/Flemish, French, Spanish, and he is conversational in Portuguese, with notions of Chinese.
Academic CV
Visiting Professor, University of Texas at Dallas, TX (USA), 2016-2017
Ph.D., Accounting, Duke University, NC (USA), 2013
MA in Economics, Duke University, NC (USA), 2010
Doctorate, Business Administration, University of Parma, 2007
BBA, University of Parma, (cum laude), 2001
Bocconi University Teaching Award, 2017
Bocconi University Young Researcher Grant, 2015
Scholarship Best Student University of Parma, Department of Economics, 2000
Research areas
Gianfranco Siciliano is an Assistant Professor in the Accounting department. He is an award-winning teacher. He received the Bocconi University 2017 Teaching Prize. He is also a researhcer. His primary research interest focuses on the properties and economic effects of accounting information and accounting standards, particularly in international settings. He has examined how IFRS affects the comparability and usefulness of financial statement information. His current research interests are in the area of earnings quality, risk disclosure, and family firms.
Publications
SELECTED PUBLICATIONS
Publications:
A. Achleitner, N. Fichtl, C. Kaserer, G. Siciliano, 2014. Real Earnings Management and Accrual-based Earnings Management in Family Firms, European Accounting Review
P.G. Marchetti, G. Siciliano, M. Ventoruzzo, Dissenting Directors, European Business Organization Law Review, 19(1), 2018
P.G. Marchetti, G. Siciliano, M. Ventoruzzo, Disclosing Directors, European Business Organization Law Review, Forthcoming, 2019
G.Siciliano, P. Kim, P. Marchini, Information content of earnings announcements around IFRS adoption and a simultaneous change in press release disclosure in Italy, The International Journal of Accounting, Forthcoming, 2019
Chapters in books:
Valutazioni e analisi di bilancio

, a cura di Gianluca Lombardi Stocchetti, Pearson, 2013 (Capitolo 9)
Trasparenza nei bilanci e tutela del risparmio nei gruppi aziendali

, a cura di Stefano Azzali, McGraw-Hill, 2007 (Capitolo 2)
Bilancio Sociale e Valori di Impresa

, a cura di P. Marchini, V. Tibiletti, MUP, Parma, 2004,, pag. 27-49 e pag. 113 - 272
Other articles:
Esterovestizione e controllo congiunto, Il Fisco n. 19/2007, fasc. n. 1, p. 7018 - 7024 (with Giuseppe Bernoni e Alessandro Dragonetti)
G. Garegnani, M. Livatino, N. Pecchiari, G. Siciliano,

Dal modello del controllo al modello del rischio: l'ERM, Rivista dei dottori commercialisti

, Milano Giuffré, marzo-aprile 2006