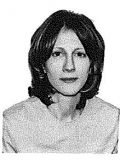 Biographical note
Born on March 15th, 1976. She has obtained the Law Degree from the University of Macerata. She studied in the Faculty of Law of the Oxford University (United Kingdom) and has received her Ph.D. in International and European Union Law from the University of Macerata.

Academic CV
Researcher with Grant (Department of Law)

Research areas
International Trade Law, European Union Law, International Investment Law

Selected publications
Diplomatic Intervention and State-to-State Arbitration as Alternative Means for the Protection of Foreign Investments and Host States' General Interests: the Italian Experience in G. Sacerdoti et al. (eds.) General Interest of the Host State in International Investment Law (Cambridge University Press, forthcoming)
China – Certain Measures Affecting Electronic Payment Services, in G. Sacerdoti, Review - WTO Case Law 2012, Bocconi University Legal Studies Research Paper No 2346678, (joint with Regis Yann Simo), available at: http://papers.ssrn.com/sol3/papers.cfm?abstract_id=2346678##
European Union Special Representatives after the Lisbon Treaty (I Rappresentanti speciali dell'Unione europea alla luce delle modifiche introdotte dal Trattato di Lisbona) in A. Lang e P. Mariani (eds.), La politica estera dell'Unione europea: inquadramento giuridico e prassi applicativa (Giappichelli Editore, forthcoming)
Different Approaches of International Investment Agreements, in M. Bungenberg, J. Griebel, S. Hobe and A. Reinisch (eds.) International Investment Law, (Nomos, forthcoming) (joint with G. Sacerdoti).
From Annulment to Appeal in Investor-State Arbitration: is the WTO Appeal Mechanism a Model?, in Jorge A. Huerta-Goldman, A. Romanetti, Franz X. Stirnimann (eds.) WTO Litigation, Investment Arbitration, and Commercial Arbitration, Kluwer Law International BV, The Netherlands, 2013, p. 327-356 (joint with G. Sacerdoti)
Law No. 78 of 1 June 2011 (GU No. 127, 3 June 2011), Note, Italian Yearbook of International Law, 2011, p. 424-427.
Agent's entitlement to an indemnity according to the EU Law in relation to a case of Termination of the dealership agreement by the principale (L'indennità di scioglimento del contratto di agenzia nel diritto dell'Unione europea a margine di un caso di risoluzione di un contratto di concessione di vendita per recesso ordinario del concedente), in Diritto del Commercio internazionale, 2011 p. 549-562.
Law No. 98 of 23 June 2010 (GU No. 147 of 26 June 2010), Note, Italian Yearbook of International Law, 2010, p. 493-494.
On the rights of defence in the EU Antidumping procedures (Sui diritti di difesa nel procedimento antidumping dell'Unione europea), in Diritto pubblico comparato ed europeo, 2010, p. 1256-1260.
On the effects of the Decisions issued by the WTO Dispute Settlement Body in the European Legal Order (Sugli effetti delle decisioni dell'organo di conciliazione dell'OMC nell'ordinamento comunitario), in Il Diritto dell'Unione Europea, 2007, pp. 437-454.
On the implementation of the principle of equal treatment for men and women in relation to the statutory pension scheme (Sull'attuazione del principio della parità di trattamento tra uomini e donne in materia di pensioni), in Rivista del Diritto della sicurezza sociale, 2007, p. 741-744.
On the interpretative role of the relevant rules of international law applicable in the relations between the parties in the WTO (Sul rilievo interpretativo delle regole internazionali vincolanti per le parti nel sistema OMC), in Rivista di diritto internazionale, 2007, p. 813-816.